Analysis: Will Bitcoin Jump Again?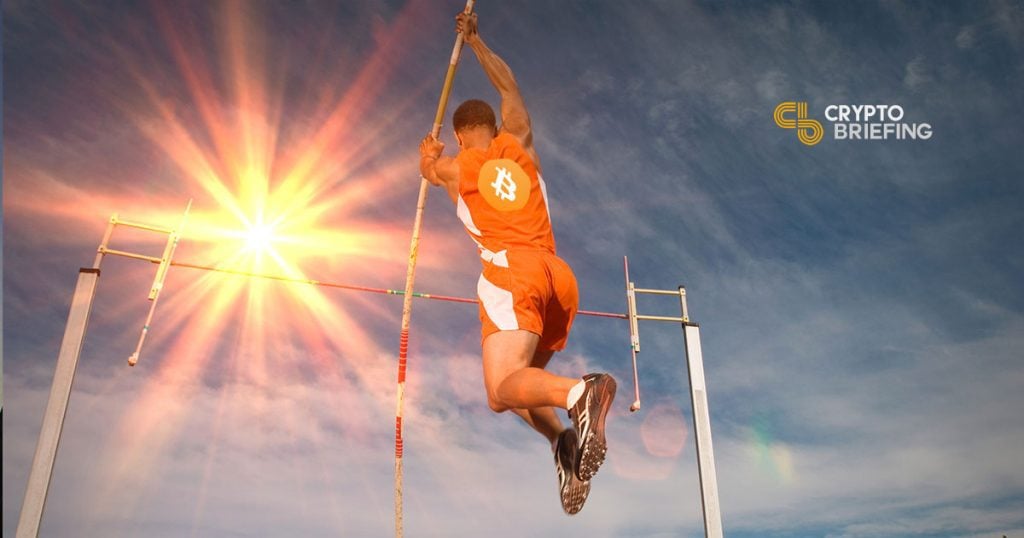 Crypto traders have a spring in their step, and total market capitalization has increased by more than $30bn in less than two days. The latest 'bitcoin boom' seems to have ended crypto winter.
Yesterday's surge caught many investors with their pants down, but perhaps it shouldn't have been such a surprise. As Bitcoin's movements over the past six months show, the longer BTC prices consolidate, the larger the eventual breakout.
Let's look at the charts. As we can see, since the beginning of September Bitcoin has gone through two long periods of relative stability, both of which ended in abrupt movements to a new price level.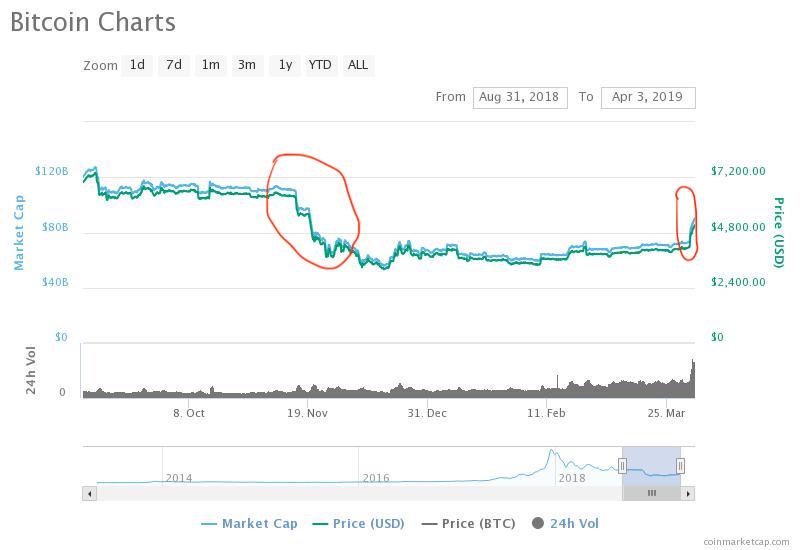 In the first instance, between September 8th and November 12th, the Bitcoin price barely shifted, sticking close to the $6,500 mark. Then on November 14th, it plummeted. Within a week, BTC had fallen by 40%. The downward spiral continued well into December until it bottomed out at $3,200 on December 15th.
Bitcoin is the most widely traded digital asset and its price movements attract a lot of attention. During long periods of stability, new support and resistance levels develop. These act as the perceived outer limits of Bitcoin's price movements and traders begin placing orders around them. The longer these periods last, the more orders accumulate.
As the resistance and support levels are established, Bitcoin trading becomes hemmed in by the new boundaries. This creates a barrier effect, limiting BTC prices even further.
As the graph below shows, between September and November, both the resistance and support levels slowly drew together. By mid-November, they were very close indeed.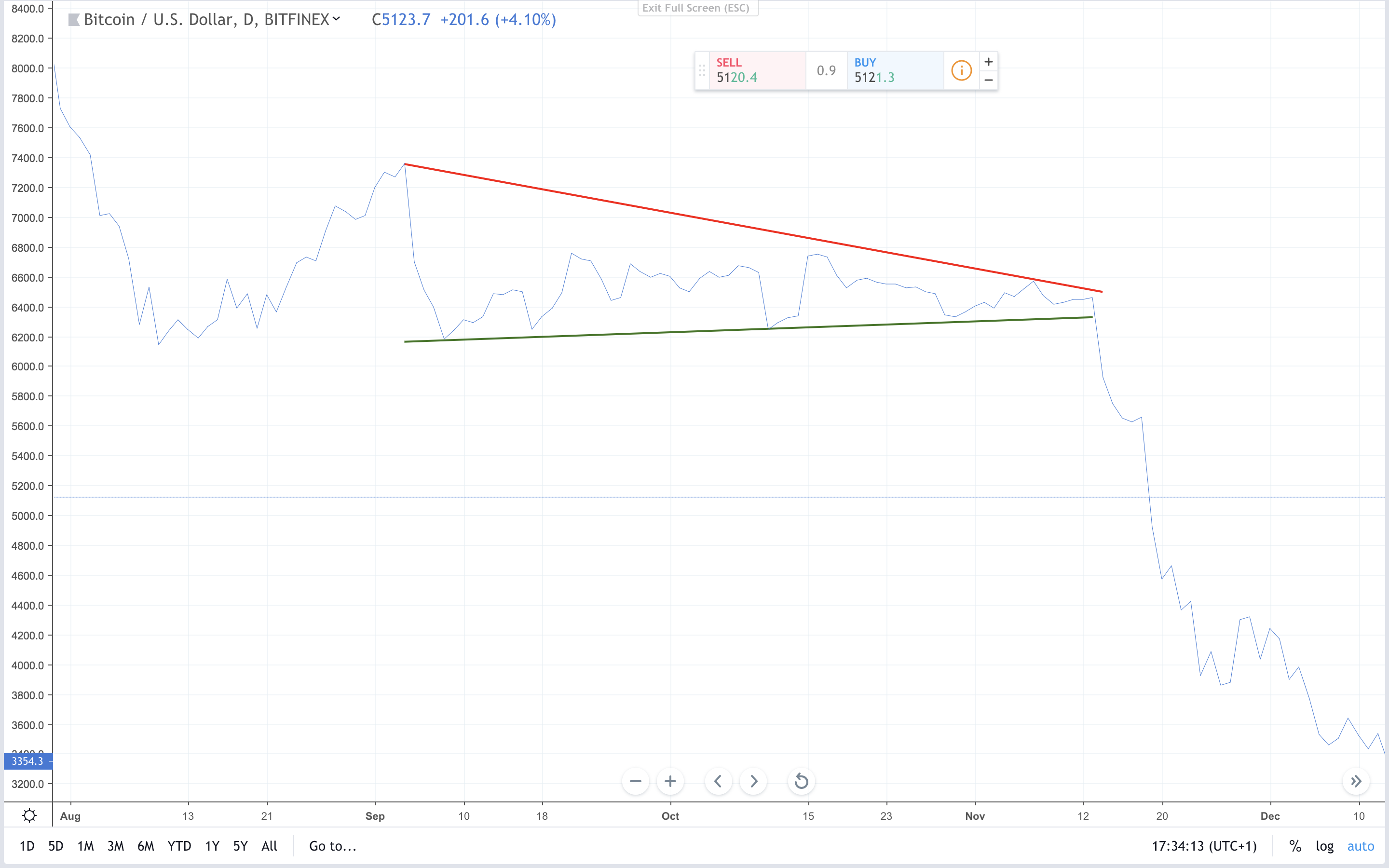 It didn't take much to cross those barriers. The combined effect of the Bitcoin Cash fork and the SEC ICO refund order spooked investors. Many began to pull out of crypto altogether, sparking a major sell-off across the board.
Bitcoin plunged through its key support level, triggering multiple sell orders and accelerating the downward trend even further. The price decline was eventually softened by a few investors buying at what they perceived as a "discount," leading to more volatility and uncertainty.
---
Bitcoin price 2019
It took more than a month for Bitcoin's price to begin to stabilize in December, by which time it had dropped by more than $2,000. But the same pattern began developing again: bitcoin went from trading within one clearly-defined range to another.
The new range was not as tight as the one before, and it also shifted over time. As the graph below shows, between Christmas and mid-January, Bitcoin moved freely between $4,100 and $3,600. Slowly, the support level began to rise, in line with improving market sentiment.
Throughout that period, Bitcoin's resistance level remained firmly at the $4,200 mark.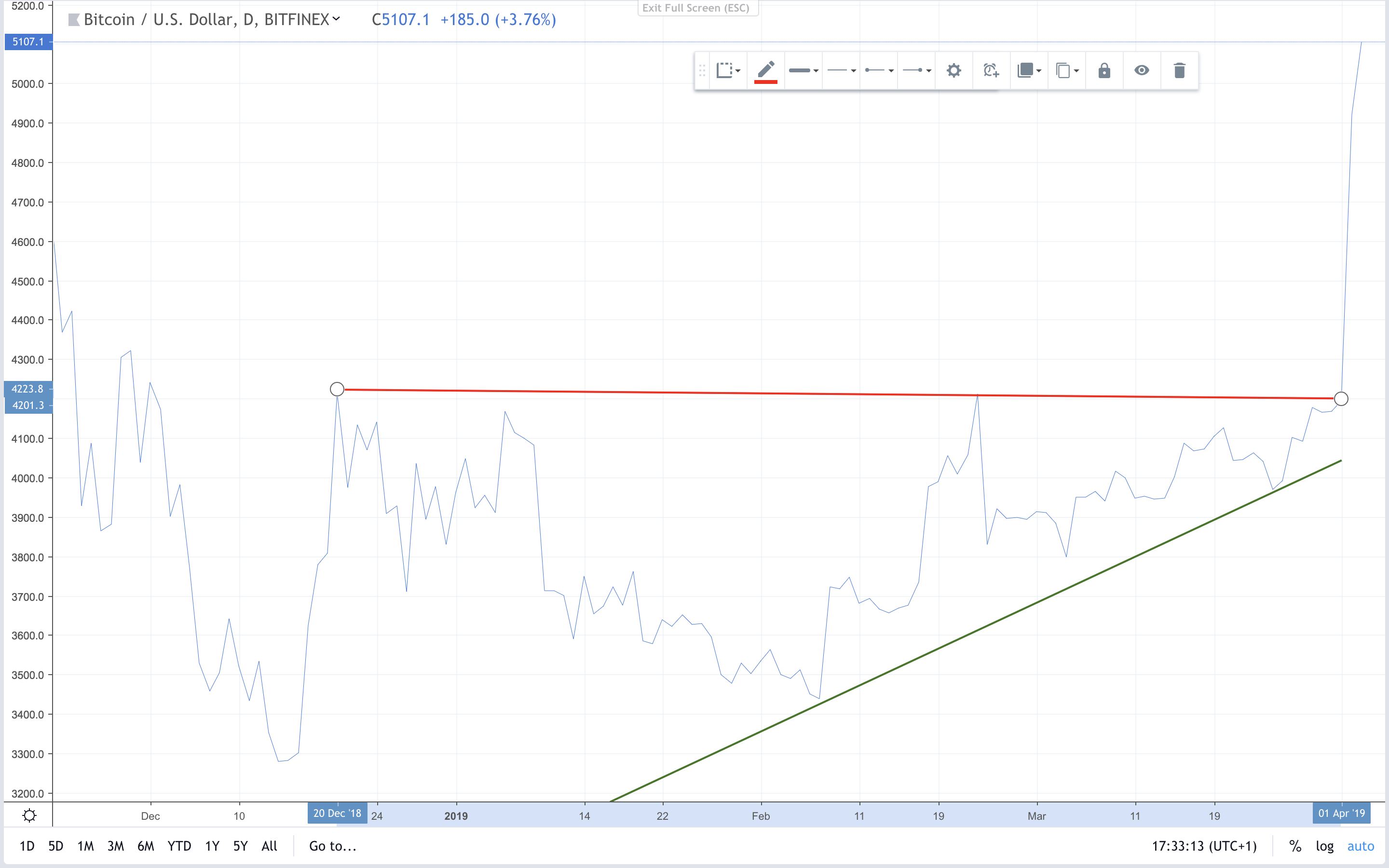 The $4,200 price level became a key psychological barrier, a metric for determining Bitcoin's relative performance. "Technically the market had the first resistance point at $4,200 BTC and short sellers had been targeting around this level," said Iain Wilson, an advisor at NEM Ventures.
As in November, Bitcoin's range was already beginning to tighten, making a breakout increasingly likely. A single large buy could have pushed Bitcoin's spot price above the resistance level, triggering orders and sending BTC flying.
"I believe [the BTC price move] is mainly due to the tight trading range over several weeks which dictated a breakout, either way, then a small move upwards triggered a short squeeze," explained Vaibhav Kadikar, Founder & CEO of CloseCross, in an email.
---
Is this an emerging trend?
This could become a new Bitcoin price trend if the pattern continues. During periods of price stability, with a gradually tightening range, the chance of a breakout increases. The longer prices remain stable, the larger the eventual breakout.
Will Bitcoin continue to rise? Investors who bought this week will certainly hope so, but increased volatility makes short-term predictions next to impossible. But judging by the past six months, prices will probably settle find a new range, perhaps at a higher level, in the next month or so.
If this trend continues, we could expect to see at least two more significant price movements in this year alone.
---
The author is invested in digital assets, including BTC which is mentioned in this article.