Angry Old Codgers | Existential Googlism | Song Remains The Same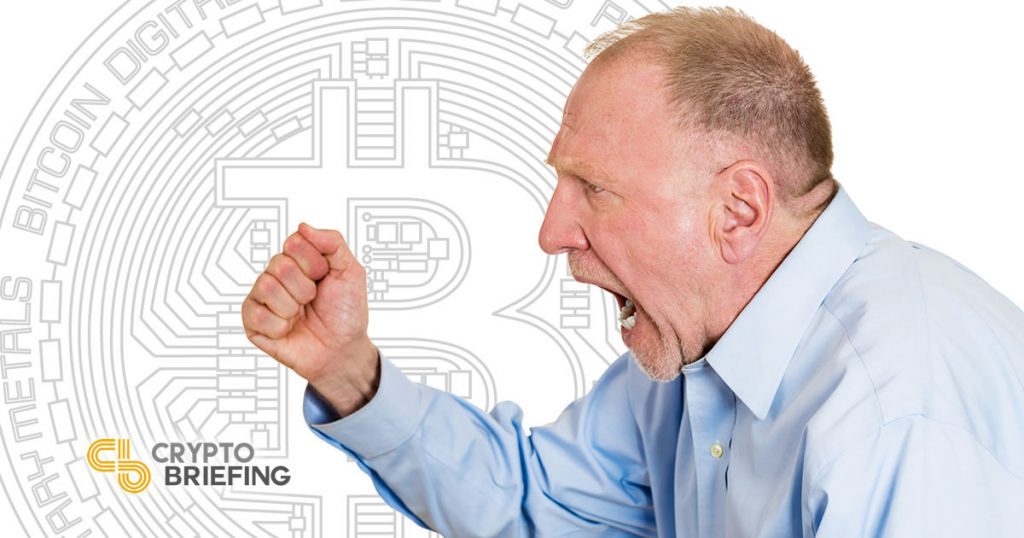 There's nothing as gorgeous as autumn colors. This week has been full of green leaves turning red, before they suddenly fell… wait, did I say leaves? I meant prices, and they're making this October scarier than a Stephen King adaptation directed by Alfred Hitchcock.
In spite of Halloween frights, there's been lots of serious news this week: from Blockfolio's advantages over Delta to Coinbase's new listing, and technical subjects like the difficulty of decentralizing stablecoins to an in-depth dive into Dash.
But there's also been plenty of humor. Almost everyone had something funny to say about crypto this week, from Dr. Doom to the AARP. Here are our favorite rib-ticklers this week:
---
Old Magazine Yells At Crypto
Nouriel Roubini wasn't the only old man to work in a few wisecracks about Bitcoin this week. In a helpful online glossary for its 38 million readers, the AARP Bulletin had a few words to help readers "Improve Your Financial Vocabulary."
Here's how they defined our favorite word:
Bitcoin — A bunch of computer code that a bunch of criminals, idealists and speculators agree is worth 'real' money. Sadly, its real-money value swings widely, making it impractical except for criminals, idealists and speculators.
That hostility to Bitcoin might make you think the AARP is shilling for Ripple. And then:
Blockchain:

1. A different bunch of computer code containing an unalterable record of a series of transactions. The most famous is a digital ledger recording all bitcoin transfers.
2. A word often uttered by companies hoping to snare investors' attention — and dollars.
The American Association of Retired Persons is not expected to be on the cutting edge of new technology, and the rest of the glossary makes it clear that the authors were not taking themselves too seriously. Here's how they defined some more traditional investments:
Junk Bonds: "Rebranded as 'high-yield' bonds, they typify Wall Street's love of a good euphemism."

Penny Stocks: "'Penny' once referred to the low prices of such stocks, but more frequently it predicts your investment's full value down the line."
Unfortunately, that wasn't enough to stop outraged hodlers from picking Twitter fights with the AARP—which is doubly pointless, because as any adult with living grandparents can tell you, the one way to ensure your message won't be seen is by putting it on Twitter. A joke, like a point, is a terrible thing to miss.
---
Google Gets Existential
If that wasn't bad enough, the crypto world also got a diss from the King of Search engines. In an ad for Google's new Call Screen, a hapless hodler gets rescued from Nigerian princes, and discovers that mining has put his bills through the roof. After being told that crypto "isn't real," the hodler replies: "Well I've got news for you—money isn't real."
https://www.youtube.com/watch?v=O4jOdVTkqS4
If the purpose of advertising is to attract viewers, then this one hit it out of the park: millions of people shared the Google ad, without pausing to reflect on whether money can be considered "real" or not.
We're not humorless enough to suggest that Google shouldn't take a few shots at crypto, especially after reopening its doors to crypto ads. But if you're one of those people who's a little turned off by Google's weak record on user privacy, you might consider the Brave Browser, a privacy-friendly alternative to Chrome that happens to replace advertisements with cryptocurrency. They've partnered with several privacy-protecting search engines and have recently crossed 4.6 million MAU.
If you've never heard of Brave Browser, you can always Google it.
---
For Everything Else, There's Mastercard
There are so many good jokes going around that we had to double-check the calendar to make sure it's not April Fools' Day. In the latest of many instances of unintentional humor, Bitcoin televangelist Jimmy Song proposed a novel means of cryptocurrency adoption: Credit cards.
If you want to use Bitcoin as a method of payment, this strategy is more rational and convenient than doing lots of on-chain tx's:

1. Spend with your credit card with no debt on it.
2. When your credit card bill comes, sell just enough bitcoin to pay the bill.

— Jimmy Song (송재준) (@jimmysong) October 8, 2018
Jimmy Song might not know what "fiat" means, but he certainly does know how to appreciate a good centralized financial system when he sees one. Unlike Bitcoin, a credit card comes with the additional security of a third-party intermediary to supervise your trades and stop you from buying anything unwholesome. Not to mention up to 2% cash back and frequent flyer miles.
It's normally difficult to explain market swings, but in light of Song's tweet, this week's market plunge is starting to make sense: Jimmy just needed to pay off his Chase card.
The author has investments in Bitcoin, Ripple and other cryptocurrencies.