Bear Cubs Come Out To Play, As Crypto Looks The Other Way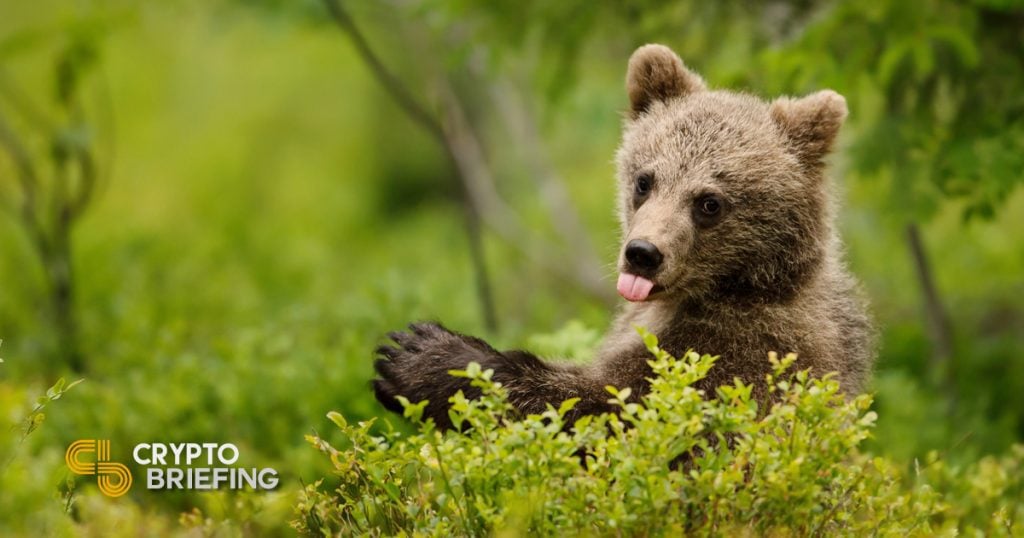 The Bears of Crypto Winter sent a chill through the entire industry… but the latest decline doesn't appear to be fazing many long-term blockchain advocates. In fact, the market sentiment is generally positive with the major issue of the week seemingly a dud.
Although an uncertain regulatory climate in the US seems to have been behind the recent devaluations in the crypto market, promising news from the banks could turn its fortunes around again.
Since early on Sunday morning, when it was valued at $476bn, the crypto market has taken a $40bn tumble and as of 19:00 GMT, has a capitalization of $431bn, according to CoinMarketCap.
This follows the widespread circulation of rumors across the sector that American regulators would determine whether Ether (ETH) and Ripple (XRP) were securities or utility tokens.
Although the ruling – allegedly set to be announced on Monday – turned out to be mere speculation, uncertainty over the future of the second and third largest cryptocurrencies (ETH and XRP respectively) sent shivers across the entire sector and may have been the leading cause behind the recent downturn.
---
Since early February, the cryptocurrency market has already performed a full cycle, climbing steadily throughout the latter half of the month, before beginning a gradual $100bn slide downwards over the course of March.
However good news could be just around the corner as major banks have begun to warm to the idea of cryptocurrency. Goldman Sachs announced on Wednesday last week that it was planning on opening a bitcoin trading desk in the coming months.
This is important: not least because it has been the established investment banks that have, and still are, some of the biggest opponents to cryptocurrency around. And although the war of words is still ferocious, the actions are what count, as crypto thought leader Meltem Demirors pointed out late last month:
comparisons are fun:@binance > @DeutscheBank
Q1 profit: $200M v $146M
employees: 200 v 97,000
i can tell you with certainty that *every* bank exec is looking at these numbers and salivating.https://t.co/ZIwiewNFpE

— Meltem Demirors (@Melt_Dem) April 27, 2018

Famously, it was JPMorgan's Jamie Dimon who when the market was at its highest levels in December, labeled Bitcoin a fraud – now his company has a major blockchain initiative.
Last week Berkshire Hathaway's CEO Warren Buffett called crypto a gamble, and just yesterday, its vice-chairman, Charlie Munger, compared Bitcoin to a "turd". But now one of their portfolio companies, BNSF, is looking at blockchain.
And most powerfully of all, in terms of words and actions, Lloyd Blankfein, CEO of Goldman Sachs, said last November that Bitcoin "does not feel like a currency. It feels like a vehicle for fraud."
Yet Circle Crypto (part-funded by Goldman) acquired Poloniex exchange and added Monero to its assets, while Goldman itself opened a Bitcoin desk just this week. It seems safe to assume that the investment Goliath wouldn't have committed itself to crypto unless the bank saw profit in the future.
Of course, Goldman Sachs, JPMorgan, and Berkshire Hathaway are all separate entities and could well go in completely different directions. But if one bank begins working with Bitcoin and it turns out to be a success, others might follow suit – and even expand beyond the market leading cryptocurrency.
Although things are admittedly not looking too rosy for the crypto-market today, when its hardline enemies start contradicting themselves, that should be interpreted as a good sign for the future.