Binance Prevails in Spot Markets, Comes for BitMEX's Crown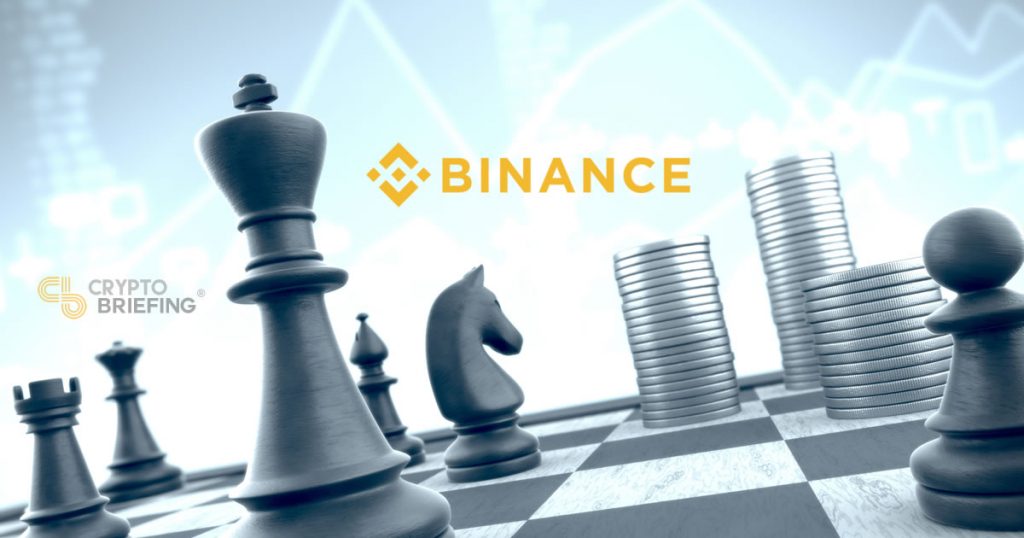 Key Takeaways
Binance enjoyed over 50% market share in spot trading for Q1 2020.
BitMEX still leads the derivatives market, but Binance has outperformed the former in terms of volume and is catching up in open interest.
Traders fleeing BitMEX could help Binance further eat into the former's market share.
BNB has not effectively captured value from Binance's sharp growth.
Binance's growth since inception has been phenomenal, resulting in the exchange becoming one of crypto's most liquid trading avenues. The exchange could soon also become the leading derivatives platform as it challenges BitMEX for the top rank.
Rapid Expansion and a Massive User Base
A report from CoinGecko has revealed that Binance accounts for 50% to75% of all spot market volume for cryptocurrencies. But its nearest competitors, Coinbase and Bitfinex, are not far behind.
The trading volume for the year peaked at $10 billion on Mar. 13, when the price of Bitcoin crashed by 40%. Binance was the single largest exchange that day, cementing its place as the king of crypto spot markets.
Website visits are another interesting metric where Binance outperforms its peers. 29% of all web traffic to crypto exchanges flowed to Binance, with BitMEX far behind in second place with 16%.
Derivatives have seen swift growth in the last few years as more sophisticated speculators flow into the crypto market. In Q1 2020, BitMEX managed to keep its crown as the most liquid derivatives platform despite losing over 10% of total open interest in the market.
BitMEX still dominates total open interest, with 47% of the perpetual swap market to Binance's 18.4%.
Yet, Binance has exerted itself as a force to be reckoned with in derivatives as well, netting a 15% increase in futures volumes and overtaking BitMEX in this regard.
Bobby Ong, COO of CoinGecko, offered his view on Binance's dominance to Crypto Briefing:
"Binance is winning almost every race in the crypto space. They have a large vision to be #1 in each crypto business line, and so far, they are very much on track. CZ and team embodies the spirit of the Blitzscaling book by Reid Hoffman really well."
However, Binance's stellar performance has not yielded any upside for its native token, BNB.
During Q1, exchange tokens from Huobi (HT), OKEx (OKB), Kyber Network (KNC), FTX (FTT), and Bitfinex (LEO) all performed well with a minimum of 12.3% of returns.
BNB, on the other hand, ended Q1 down 8.1%. It is the only significant exchange token that did not appreciate over the quarter.
Some amount of BNB is burned every quarter, based on Binance's profit. So far, 16.7 million BNB, or 8.4% of supply, has been burned. These burns have resulted in poor value accretion, as BNB trends with the market, rather than when Binance burns the supply.
The real value proposition of BNB is holding it to receive discounts on trading fees when using Binance. In that sense, it is one of the few tokens that have real utility.
Is BitMEX's Reign Over?
While crypto's oldest derivatives exchange, BitMEX, still enjoys 47% of the perpetual swap market, it is tough to ignore the 45.5% decrease in open interest.
Perpetual swap open interest saw a decrease on every exchange except Binance. Still, the steep fall in BitMEX's share was unexpected.
The Mar. 13 flash crash wreaked havoc for BitMEX as the exchange was forced offline, causing liquidations en masse. Following this, BitMEX was criticized for not utilizing its massive 35 million BTC liquidation fund to help.
BitMEX finally came through by reimbursing liquidations. But traders, in response to the initial reaction, fled the exchange, which has seen BTC held fall by 23% from its peak, as of Apr. 1.
The amount of Bitcoin held by BitMEX has been in freefall over the past two weeks after BitMEX experienced mass liquidations on March 13th.

As of March 29th, BitMEX held 244k BTC, down from a peak of 315k on March 13th.

Read more: https://t.co/cC66MWe4d2 pic.twitter.com/liB6GVkLwg

— CoinMetrics.io (we're hiring!) (@coinmetrics) March 31, 2020
Binance is trying to work it's way to the top, but a single exchange running away with the top rank in spot and derivatives markets may be a cause for concern.
"Is this move by Binance to dominate everything in crypto problematic? No doubt, it leads to less decentralization in the space, but Binance having a strong dominance in the space is actually more a reflection of the lack of competition posed by others towards the Binance's team strong and fast execution. The other teams in crypto need to step up and give Binance some competition by improving their product offerings," said Ong.
Coinbase can oppose Binance's dominion, but it falls within the United States jurisdiction, so it doesn't have the same freedom as Binance to expand into every niche. FTX is also attempting to challenge Binance with spot markets, derivatives, and even prediction markets.
But Binance's moat, its 15 million+ users, continues to provide the exchange with a competitive advantage.