The Cross Border Payments Race Is Heating Up
Will Ripple Labs win the race for cross border payment supremacy or are other projects going to find greater support?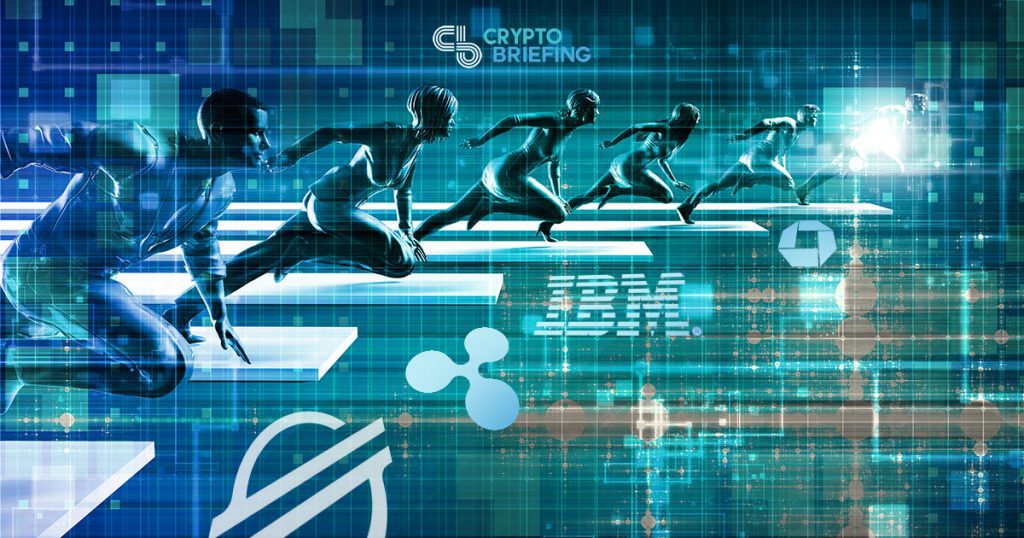 Cross border payments represent one of the most self-evident use cases of cryptocurrencies. Digital currencies move across borders faster than traditional payment pathways, with reduced friction points and no need for an intermediary.
As central and commercial banks continue to trial the application of blockchain-based cross border payments, it's not yet clear which players are in the best position to win. Here are some of the runners at the front of the race:
---
Bank Of Canada And Monetary Authority Of Singapore Conclude Trial
Based on Corda at the Canadian side and JPMorgan's Quorum on the Singaporean side, the central banks of Canada and Singapore concluded a trial of distributed ledger technology (DLT)-based cross border payments early this month.
At the World Economic Forum earlier this year, it was revealed that a number of central banks had considered the possibility of using DLT to enhance "banking and payments system efficiency, payments security and resilience, financial inclusion and more." However, according to the report, their results were mixed.
---
Giants Competing For A Slice Of The Potential Pie
The race is heating up among competitors in the cross border payments sector of cryptocurrencies. At the forefront has always been Ripple Labs, which boasts over two hundred banks and payment companies using their RippleNet platform. A smaller number use Ripple's xRapid network, which executes payments using XRP.
But Ripple is beginning to see challengers in the race. Jamie Dimon, the long-standing CEO of JPMorgan and a notorious cryptocurrency cynic, announced in February the creation of the JPM Coin, a stablecoin pegged to the US dollar, designed for use among its wholesale banking customers.
Emphatically true. It will only be available privately. https://t.co/jX63fOzHBz

— Mati Greenspan (@MatiGreenspan) February 14, 2019
JPM Coin is based on a permissioned blockchain, a closed network which is anathema to many in the cryptocurrency community. For JPMorgan, this closed network is a strength rather than a weakness.
Being pegged to the dollar, its crypto would also avoid exposure to the wild price fluctuations affecting XRP and other digital currencies. However, with four-second transaction speeds, the fluctuating value ranks low on the risk of Ripple's worries.
---
IBM's World Wire And The ING-R3 Partnership
In March, IBM announced the launch of World Wire, a payments platform for use in the banking sector. It has already secured Letters of Intent from six banks. The platform will use the Stellar blockchain to secure the flow of funds, with banks using native digital currencies for internal transfers and Stellar's XLM as the medium for inter-bank transactions.
In January, ING announced a partnership with R3, giving the giant Dutch bank access to a wide range of applications on the company's Corda network.
One such application is Corda's Universal Settler Application, which is fueled by XRP. Should ING activate cross border facilities through that application, it will add another arrow to Ripple's quiver, despite R3 and Ripple Labs ostensibly being competitors.
---
Coinbase's Green Light For Ripple
After an anxious wait, in February Coinbase finally gave the Ripple Army what it had been demanding: listing on the exchange. Since then, the American giant has launched fee-free internal transfers between Coinbase users for XRP and Circle's USDC.
Coinbase's decision to remove fees from XRP and USDC transactions may prove a boon to Ripple Labs and the exchange. Given their suitability for smaller transaction amounts, the most likely users of fee-free XRP transfers on Coinbase are those sending remittances to countries like the Philippines. That could mean an expanded global user base for Coinbase and XRP becoming, as its army would say, "the standard."
---
Cross Border Payments Are Becoming Easier, But Remain Centralized
Cross border payments are becoming easier and cheaper with cryptocurrencies and it is only a matter of time before they become standard practice.
The relatively centralized XRP has long been a lightning rod in the crypto community. But Ripple Labs has got the jump on Stellar and other cryptocurrencies in terms of cross border payments.
Given that Ripple's leading competition is now with stablecoins and bank-issued assets on permissioned blockchains, the company still has a chance to demonstrate some of the advantages of decentralization through its payments networks. If Ripple Labs does bring crypto into the realm of everyday use, Brad Garlinghouse may find his way back into the good graces of the crypto community.