Crypto Market Plunges As Bitcoin ETF Postponed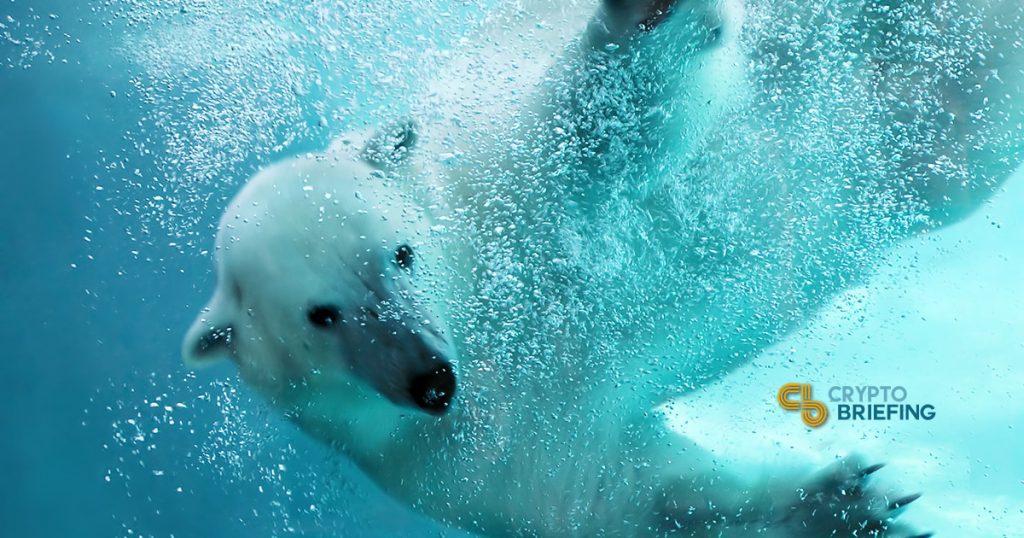 The crypto market could be in for some tough times ahead. Prices could remain in freefall until financial authorities in the United States provide regulatory clarity.
The market's value, which looked like it had begun to level out, saw a significant wipeout in the latter part of the week. Beginning Thursday at approximately $120bn, crypto has devalued by more than $10bn over the past day and a half. This takes it to within spitting distance of the $100bn mark. If it falls through this barrier, it will take the market to its lowest levels since July 2017.
Most top-ten coins are down by double-digits; including Ether (ETH), Stellar (XLM), Litecoin (LTC) and Bitcoin Cash (BCH). XRP had a more muted drop of around 7% at the time of writing; EOS fell by a significant 18%. Tron (TRX) is down by around 2%, but news from founder Justin Sun about "saving" Ethereum and EOS developers seems to have protected the token from a sharper decline. Bitcoin SV (BSV), which rallied over the past two days, is the only non-stablecoin to rise in value.
Bitcoin (BTC), which currently constitutes 55% of the market's total value, is currently trading at around $3,400. That's slightly more than half of its once 'stable' price at around $6,500, which held throughout most of September and October.
---
Are Bitcoin ETFs the problem?
David Thomas, Director of GlobalBlock, a London-based cryptocurrency trading firm believes Bitcoin's price is likely to go even lower. A lack of regulatory clarity, especially surrounding the ETF-question, prevents the vital market activity needed to keep prices stable. This is unlikely to change in the short term, he believes.
"The crypto market has slightly been relying on the ETF decision from the SEC and in recent weeks they -the SEC – has made it clear that this may not be for some time with another delay until at least the end of Feb 2019," Thomas said.
The ETF question has circled around the cryptocurrency industry for more than a year. Enthusiasm surrounding the Cboe Bitcoin ETF application – which the SEC will push back until the new year – rose to a fever pitch during the summer. The market crashed by around $80bn when regulators pushed back their decision until late September,
Advocates argue that ETFs will provide a safe, legally secure vehicle for institutional money to enter into the space, fostering mainstream adoption. There have been some successes. The Swiss fintech provider, Amun, unveiled a fully regulated crypto ETP – a basket of the top-five virtual currencies – that could be traded on the local licensed Six exchange.
But despite numerous applications, the SEC has continued to block a similar sort of product launching in the United States. Thomas thinks this will continue to push prices down. "As we head towards the end of the year it feels as though the sell-off is still to be concluded and as such, there is further scope for more downward pressure," he said. "On a technical basis, it is conceivable that we could see this downtrend continue in the coming weeks, with the next big technical level of support is seen around the $2,580 price area."
---
What else could affect the crypto market?
Not everyone agrees that the ETF decision is significant, however. Mati Greenspan, the senior analyst at eToro, has previously told Crypto Briefing that financial products have only ever had a short-term impact on the crypto market.
As he writes in his briefing earlier today, Greenspan points out that there have been a record number of short positions taken out on Bitcoin. Although he has downplayed their influence in the past, an unusually high volume of bets against BTC could dampen prices further.
It isn't all bad news though, as a high volume of shorts is generally unsustainable. "This might not be as concerning as you would think," Greenspan said. "A high level of shorts in a specific market can often be an indication that the trend is about to reverse."
He added, "if all the equity available to short is currently doing so, then it's not possible to add more short positions, which could possibly be a good setup for a short squeeze as we approach the critical level of $3,000."
The author is invested in BTC and Eth, which is mentioned in this article.