Crypto Trading on PayPal Hits All-Time High as Retail Returns
PayPal crypto trading is surging. The company's itBit exchange has recorded over $411 million in volume since yesterday's market slump.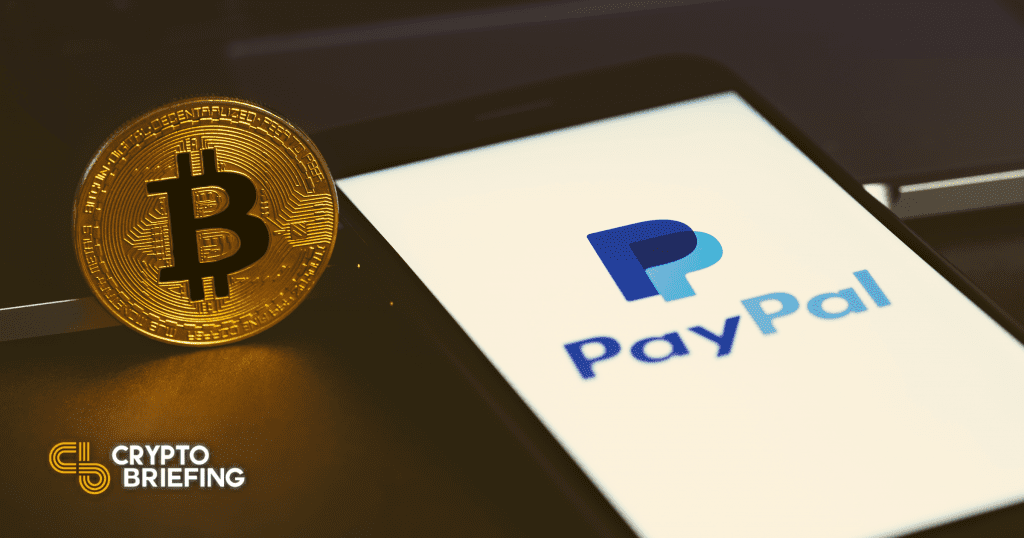 Key Takeaways
itBit saw $242 million in daily volume yesterday, its highest ever. The exchange processes PayPal's crypto transactions.
The crypto market suffered a sharp downturn yesterday, with Bitcoin and Ether plummeting over 20%.
Several indicators suggest that retail investors are contributing to the recent surge.
PayPal's exchange service itBit registered $242 million in daily volume yesterday, its highest ever by a significant margin.
PayPal's Crypto Offering in Demand
PayPal's crypto service is experiencing its highest usage ever.
According to data from crypto analytics site Nomics, itBit exchange has recorded roughly $411 million in trading volume since yesterday. It hit a record high of $242 million yesterday and has seen a further $169 million today.
The highest previous volume occurred on Jan. 6; yesterday's spike was an 88% increase on that.
Paxos-owned itBit is PayPal's dedicated crypto exchange. Though the data isn't specific to PayPal, trading volume has significantly increased since the payments service added support for crypto in October.
The surge in trading yesterday happened as the crypto markets took a deep plunge. Red charts were a recurrent theme across the entire space, with Bitcoin and Ether crashing more than 20%.
Since then, there's been a slight recovery with signs suggesting that high net worth individuals were the ones buying the dip.
Significant retraces such as those seen yesterday are a common occurrence even in the most feverish of bull markets—when assets experience a parabolic run like Bitcoin has done over the last few weeks, daily drops of 30-40% are typical.
With the heightened attention surrounding crypto, it's not only PayPal's crypto offering that's seen record highs: yesterday, Ethereum's network usage was at 98.01%, according to Etherscan. That caused gas fees to reach as high as 480 Gwei, now down to 72 Gwei for an instant transaction.
Retail Investors Return to Crypto
For months, crypto's most entrenched believers have been debating whether retail investors have taken a renewed interest in the space.
This demographic is casual investors who purchase assets for themselves, often through a centralized exchange like Coinbase. In late 2017, retail investors speculating on the ICO-fueled crypto boom helped Bitcoin hit an all-time high of $19,600.
Where cryptocurrencies have seen a major surge in recent months, much of the demand has been propped up by institutional investors. But with PayPal's crypto service seemingly at its highest usage ever, data suggests that it's more than a small group of billionaires who have contributed to the frenzy.
On Saturday night, the popular UK YouTube personality KSI sent out a tweet reading "Ethereum" to his 6.4 million followers. The post received more than 74,700 engagements.
Ethereum.

— ksi (@KSI) January 9, 2021
Following his post, Google searches for "Ethereum" also hit a record high.
Searches for "Bitcoin" still trail relative to the peak of the 2017 bull run, but if the asset manages to hit new highs in price again, that may change soon.
Disclosure: At the time of writing, the author of this feature owned ETH, among a number of other cryptocurrencies.