NEO: Is China Holding Its Best Blockchain Asset Back?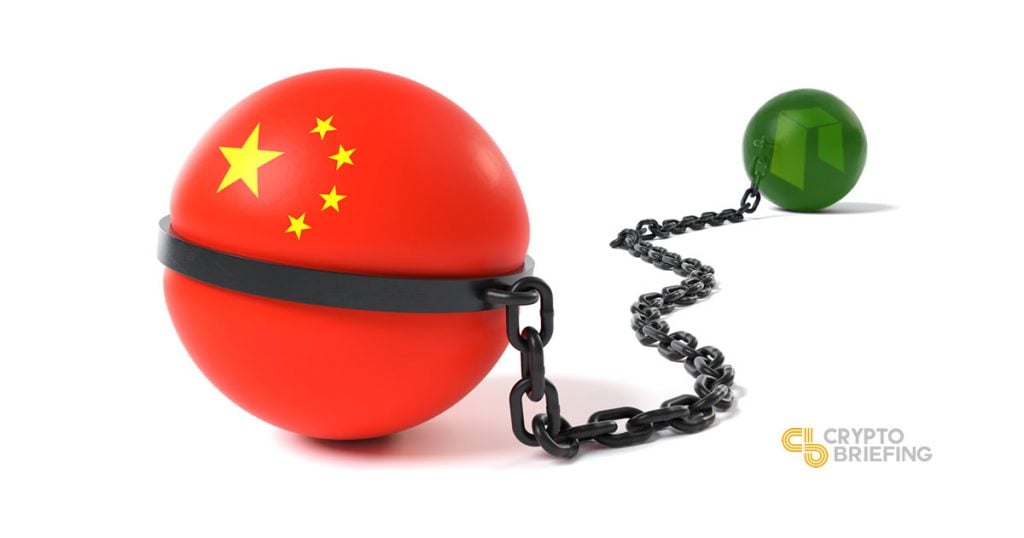 NEO might be the 13th largest coin on the open market, with a market value of $1.85 billion and a daily trading volume of $80 billion, but the 'Chinese Ethereum' has taken a beating of late. The value has spiralled and slid as low as $30.
It is now hovering between $30-$40. So what is holding NEO and the NEP-5 tokens back?
Hard Line Stance In China
China's ban on ICOs and cryptocurrency trading last year certainly didn't help and that was the start of a trying time for NEO. The price crashed and it has been a long, hard road to recovery. It sucked the wind right out this cryptocurrency's sails, while traders were forced to move to Hong Kong.
NEO, along with EOS, had been touted as a successor for the flagging Ethereum, especially as the scaling issue remained unresolved. That was the darling of the second wave of crypto and the champion elect that had Bitcoin looking over its shoulder.
Now? China has to soften its stance on crypto before the blockchain can start to have an impact, and it is working on new standards for the industry. Until then, the government seems to believe it can separate out trading from blockchain-based projects.
The country needs to look at its draconian measures or it will get left behind by the likes of South Korea, which has embraced the cryptocurrency revolution.
China Drawing Up Crypto Standards
Right now, China's own legislation is strangling NEO. Will that change? That's the gamble you're taking and it's the gamble that will define this ecosystem's success, or eventual failure. NEO is effectively waiting for the green light to roll out blockchain and crypto services, including smart contracts, to all of China.
China's current blanket ban on cryptocurrency is pretty much untenable in the long-term. The blockchain just has too many benefits to ignore and it goes hand-in-hand with a solid cryptocurrency trading environment. NEO, then, must play the waiting and lobbying game.
A Bad Year For NEO
Last year the only was was up for NEO. It passed Litecoin to become the world's sixth largest coin in August, with a price nearing $150 and a total market valuation of $2.283 billion.
NEO has improved on the basic technology of Ethereum's ERC-20 tokens with NEP-5 tokens that work with more languages and achieve more with smart contracts. It was billed as the next big thing, but a pure focus on China might turn out to be a huge mistake.
NEO's mission is to bring the blockchain to China and it's in pole position in this potentially dominant market, although China then pulled the rug from under them with the ban.
A Smart Economy Is Ready To Go
The NEO Smart Economy offers decentralized internet with its own operating system, nOs, and that means you could work in an entire ecosystem using NEO coins. It was the theoretical basis of a cashless society and the beauty of NEO is its scalability.
This works as a bank account for individuals or a linked system for millions. There are no transaction fees and the NEO coin should be relatively stable, as it is not a mined currency. There will only ever be 100 million coins that were issued at the start. 50 million of those coins remain with the Foundation.
GAS Follows Ether
GAS tokens power the smart contract and the fee is collected like a levy by NEO's owners. The free price of entry was a deliberate ploy to tempt companies and the government on to the blockchain, where they would effectively pay a subscription to use the blockchain.
NEO holders get a steady stream of GAS tokens that are designed to make them hold coins, rather than sell. GAS is effectively a similar proposition to Ether on the Ethereum network. NEO has promised to issue 100 million GAS tokens by 2039.
Compliance Built In To Business
Smart contracts can have payments and compliance built in to the fabric of the deal, so the contract simply will not execute if either party doesn't work in good faith. The contracts can effectively secure the amount required in NEO coins. The contracts, then, effectively take and hold a payment.
You can stagger several payments upon completion of certain conditions, too. That all happens automatically, with no human involvement, which means the blockchain is good for small businesses, as well as the tech and communications giants.
Bill payment on the blockchain could happen automatically at a consumer-level, too, which could streamline your life and endless services.
So, this is a good coin with great potential that isn't quite living up to the early hype.
What Does NEO Need For a Surge?
After starting at just $0.60, it soared to peaks of $150.00. That seems a long time ago right now and it is mired in the $30-$40 realm.
To pull it out of this funk and set it back on its proper course, either China needs to change its stance on crypto, which looks like it will happen eventually, or NEO needs to change its focus and establish itself on the global market.
It still has the support of the Chinese government and can work on domestic blockchain products, but it needs to reinvent itself on the global stage and show China what it has to do with a comeback to those heady days of $150 and beyond.
The author is not invested in any cryptocurrency mentioned here.