Star Wars, Wolf of Wall Street NFTs Coming to Ethereum
The digital collectibles will be created by Marvel and DC Comic book artist Rob Prior and auctioned through Mogul Productions.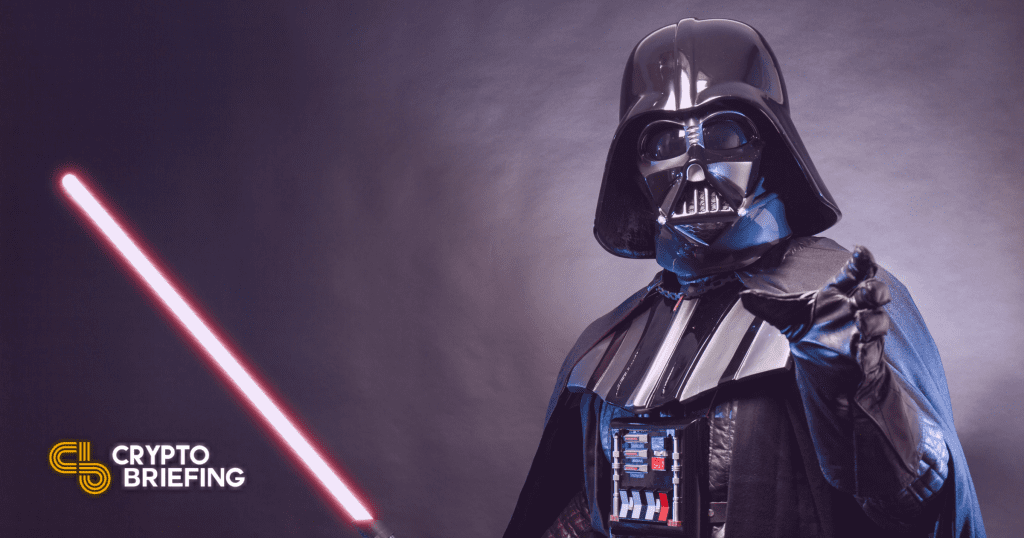 Key Takeaways
Marvel and D.C. Comic book artist Rob Prior is creating a series of movie-inspired NFTs to launch on Ethereum.
The NFTs will be auctioned through the Mogul Productions platform.
The first three pieces will take inspiration from Star Wars, the Marvel Universe, and the Wolf of Wall Street.
Mogul Productions is tokenizing artwork inspired by a range of iconic movies.
Mogul Productions Links With Acclaimed Artist
Rob Prior, an artist whose body of work includes pieces for Marvel and D.C. Comics, is creating a collection of NFTs inspired by classic movies.
The popular visual creator is launching the series with three pieces inspired by Star Wars, the Marvel Universe, and The Wolf of Wall Street.
They'll be auctioned through Mogul Productions, a project that describes itself as a DeFiFi (decentralized film financing) platform for connecting movie creators, fans, and investors.
Gagan Grewal, CEO of Mogul Productions, said of the collaboration:
"Our aim is to support an entertainment ecosystem that brings creators, fans, and financiers together in one space to ensure more great films get made, and we see the NFT auction of film-inspired artwork as the perfect way to commemorate the merging of blockchain and entertainment worlds."
Prior also joins the Mogul Productions advisory board as part of the move. Speaking of his enthusiasm for tokenizing his work, he said:
"It's incredible that we can now make art immortal by giving it a permanent digital life on the blockchain. I couldn't be more enthusiastic about working with the Mogul team to share my creations with the members of the entertainment community."
The NFT drop with Prior is Mogul Productions' first major partnership with an artist. Grewal told Crypto Briefing that Prior's career credentials make him "a natural fit" for the collaboration. Prior's most notable work includes pieces for titles like Marvel, D.C. Comics, Star Wars: The Force Awakens, and Game of Thrones. "Rob's body of work speaks for itself," Grewal added.
He also said that Mogul has plans to leverage NFTs in several ways in the future.
The platform will host drops on at least a monthly basis, and the tokens will have utility beyond digital art. He specifically mentioned movie-related "liquid intellectual property" and "digital ID and proof of ownership," something NFTs could potentially be widely used for in the future. Since the data for an NFT gets immutably recorded on Ethereum, one potential use case is in membership cards.
Mogul also recently launched tokenized "Access Pass NFTs," which give holders access to exclusive events and other privileges. Mogul is building an NFT marketplace to house the tokens.
The first auction from Prior's collection will go live in late spring, and the highest bidder will be able to watch him burn the original work as a way of obtaining proof that only one version exists in tokenized form. A group of NFT enthusiasts pulled a similar stunt with an original piece of Banksy artwork earlier this month, burning the physical copy after they'd minted an NFT version. The digital piece sold for $380,000.
Cambrian Explosion of NFTs
NFTs can be used to create artwork that lives on-chain forever. They can also offer provable scarcity of an asset, which isn't the case with physical pieces. The technology, which centers on Ethereum today, has exploded in popularity in 2021, attracting fine art auction houses, musicians, celebrities, sports players, and fans alike. The Mogul Productions and Prior partnership, though, is the first of its kind for the movie space.
Mogul Productions launched earlier this year and is currently preparing for its mainnet launch. It aims to connect filmmakers and fans to decide on movies to be put into production and vote in key aspects of the process. It uses an ERC-20 token called STARS as an incentivization mechanism.
Grewal alluded to the disruptive potential NFTs could bring to the movie industry, specifically through tokenizing iconic clips and distributing royalties. He said:
"Imagine owning the NFT of the Mel Gibson speech from Braveheart. We're not just looking at the past, but the future as well and giving users the chance to potentially own the token of movies that are vying for financing as a way to own a piece of the film. "
With smart contracts on Ethereum, it could be possible to create a token representing a scene from a movie while also distributing returns to its holders. Mogul Productions is already researching the possibilities of using NFTs as a tool for royalty distribution.
"The visual representation might be an iconic scene from the film, but the governance of the token may also attribute a percent of royalties to the holder," Grewal said. "Our team is at the forefront of this research and development across the world to bring better opportunities to filmmakers."
With so many in the digital art and music spaces championing NFTs today, it wouldn't be a stretch to see movies explode in the space next. Based on their current research, it sounds like Mogul Productions is working hard to make sure it happens.
Disclosure: At the time of writing, the author of this feature owned ETH and several other cryptocurrencies.