SushiSwap to Overthrow Uniswap? FTX Owner Stages $1 Billion Liquidity Heist
FTX and Serum founder Sam Bankman-Fried has successfully conducted a "vampire attack" on the decentralized exchange Uniswap, sucking it dry of liquidity.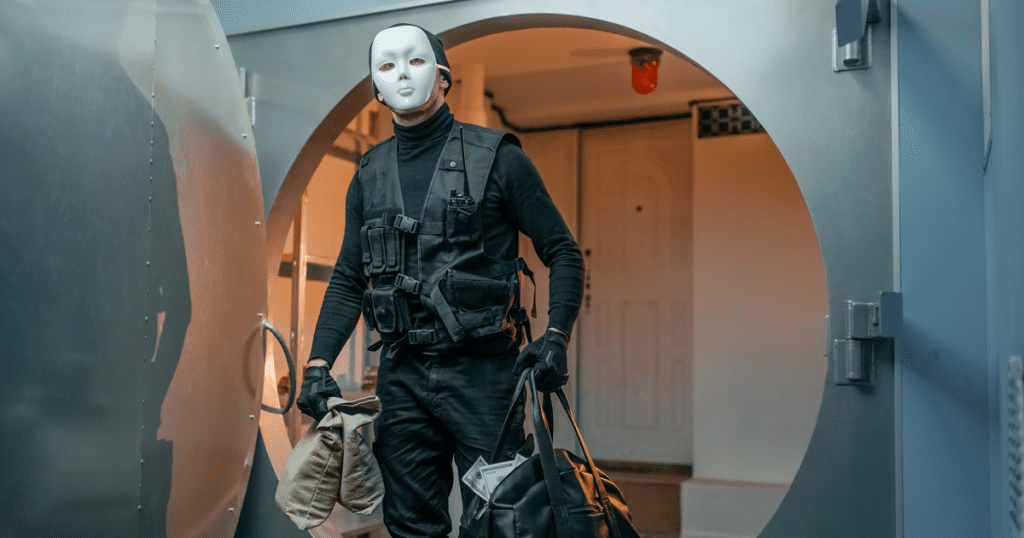 Key Takeaways
Uniswap pool liquidity dropped from $1.57 billion to less than $500 million as SushiSwap siphoned liquidity from Uniswap pools
A new proposal for SushiSwap by Bankman-Fried aims to supplement the ERC-20 token standard with Solana's SLP tokens
SOL tokens jumped 45.8% on Sept. 9 as the successful migration of SushiSwap marked the first steps of the Serum and Solana integration
Migrating Uniswap V2 liquidity-provider tokens to SushiSwap was the first step in Sam Bankman-Fried's elaborate plan to takeover Uniswap. More than that, he is challenging Ethereum with FTX's Solana and Serum as the blockchain standard for DeFi.
Uniswap to SushiSwap: What's Next?
"Vampire attack" refers to the hostile movement of $1 billion in liquidity from the Uniswap to the competitor SushiSwap pools via the liquidity provider (LP) token migration process. Uniswap was the leading marketplace for obtaining ERC-20 DeFi tokens long before these tokens earned a centralized exchange listing. As such, the platform has swelled in popularity and usage. Out of the total $7.1 billion locked in DeFi, Uniswap was one of the few projects without a native token incentive.
Uniswap's total liquidity went from zero at the beginning of May to an all-time high liquidity of $2 billion on Sept. 4. The peak daily volume on the decentralized exchange (DEX) was just short of $1 billion on Sept. 1, which is greater than the average daily volume on all centralized spot exchanges except Binance.
Now Uniswaps' rival fork SushiSwap is working to siphon this liquidity off of Uniswap by enticing defectors with a newly-launched governance token called SUSHI. Bankman-Fried also offered a two million SUSHI reward for early participants who keep staking through the migration process.
Our boy @sbf_alameda is about to pull off a Hollywood level heist. In one hostile takeover he's about to siphon 70% of @UniswapProtocol's liquidity onto his own platform @solana and @ProjectSerum, lay his massive balls on the table, point down, and say "This is for the community" https://t.co/GmatJuVfOX

— Autism Capital 🧩 (@AutismCapital) September 9, 2020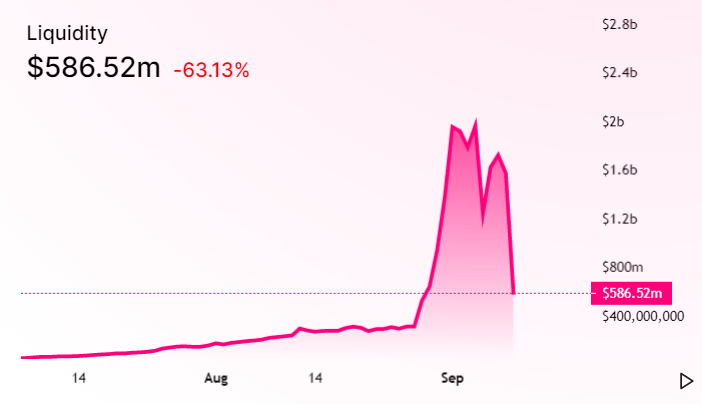 So far, the heist has been successful. The liquidity on Uniswap pools saw a startling 65% drop in liquidity, falling from $1.57 billion to $500 million due to the migration to SushiSwap pools. Moreover, SUSHI tokens come with the voting power to decide on the changes and updates to the SushiSwap DEX. A group of multi-sig address holders implement proposals cast by these token holders.
Proposal for Solana and Serum
One such proposal for SushiSwap by Bankman-Fried involves building support for SushiSwap on Solana in addition to Ethereum. The proposal includes the integration of Serum, which is a DeFi DEX built on Solana, with SushiSwap's order books.
Solana's SOL token and Serum's SRM token gained 45.8% and 15.5%, respectively, on Wednesday as the SushiSwap migration marked the execution of the first stage of Bankman-Fried's plan.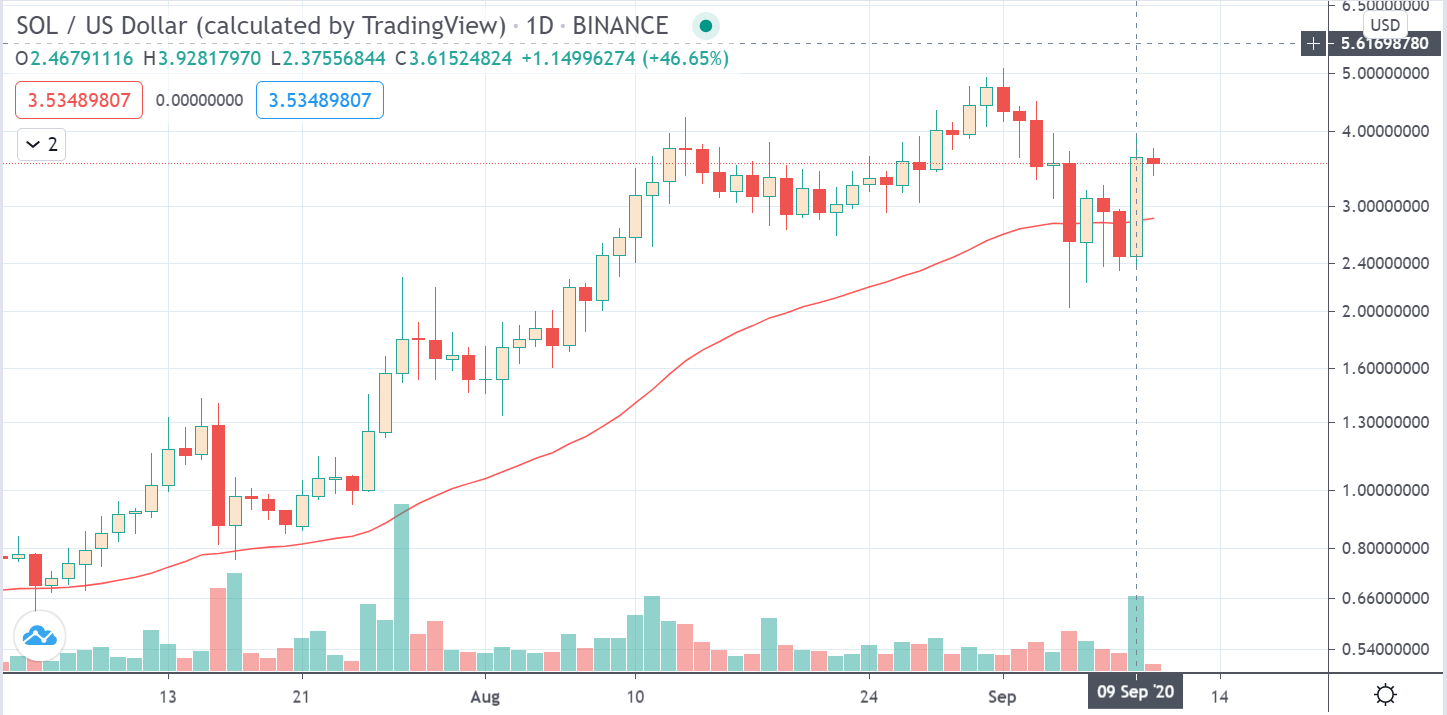 The roadmap for the above proposal outlines rolling-out the initial code within the next month and its completion before the end of 2020.
A fun/interesting cross-chain questions: SC is a smart-contract Ethereum and P is a program on Solana.

Alice is supposed to send 1 Solana based token (SPL token) A to P, and has an ERC20 token E in SC. SC is supposed to release E if she does send A to P. Can you design it?

— SBF (@SBF_FTX) July 27, 2020
SushiSwap and Serum are competing for the top DEX position. On the other hand, Solana with its SPL token standard aims to overthrow slow and expensive ERC-20 tokens on Ethereum. The recent surge in DeFi exposed Ethereum's limitations⁠—high fees and limited scalability.
Though Bankman-Fried is steering this migration, some claim that he was the mastermind behind the scenes. The anonymous creator of SushiSwap DEX goes under the alias of "Chef Nomi," but some speculate that this pseudonym is actually Bankman-Fried; Crypto Briefing reached out to Sam Bankman-Fried and he has yet to comment.
Opportunistic or devious, Sam Bankman-Fried is nonetheless staging one of the biggest shifts in the cryptocurrency sector. The sudden rise of his underdog exchange FTX, the introduction of his blockchain Serum, the unexpected $150 million purchase of Blockfolio, and now his involvement in DeFi have demonstrated that the 27-year-old CEO is a force to be reckoned with.