Can Binance Launchpad Maintain Its Edge When It Comes To IEOs?
Binance Launchpad's selectivity is keeping its IEO figures down. Does CZ care?
Binance Launchpad pioneered the IEO, but it's not the undisputed leader. Can high ROIs keep it on top?

Binance Launchpad is single-handedly responsible for popularizing Initial Exchange Offerings, or IEOs. This new type of crowdfunding has a lot of promise since it allows crypto startups to offload the challenges that come with token sales to exchanges. During IEOs, exchanges handle regulatory compliance, marketing, distribution, and other matters.
Of course, Binance Launchpad is not the only platform that runs IEOs for crypto startups: it was just the first. Its first sale, the IEO for BitTorrent Token, generated massive hype in January. However, the big picture is more complex. Binance Launchpad isn't on top in every way, though it offers excellent returns to investors.
---
Binance Launchpad Moves Slowly
Though IEOs are on the rise, Binance Launchpad ran relatively few this summer. One report from Coinsflare Research indicates that Binance was responsible for just 14 percent of the IEOs conducted in Q2 of 2019. Meanwhile, OKEx and Kucoin were responsible for 36 percent and 29 percent, respectively. That's quite a gap.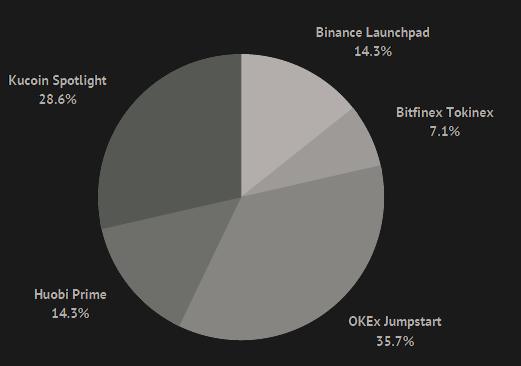 In absolute terms, and taking the entire year into account, the differences are less drastic. To date, the three exchanges have run about ten IEOs each. Since Kucoin and OKEx went live a little later than Binance, it seems that they tried to catch up with the latter over the summer. Though this is not to say they are flooding the market with IEOs.
Still, it seems that Binance is being more selective, and conducting IEOs at a more modest pace. In a Q&A session, Binance CEO Changpeng Zhao stated that Binance will run one or two IEOs each month. He added that "it's not so much an exact schedule, but we want to find good projects. As soon as we can find good projects, we will do it."
---
Binance Launchpad Hasn't Raised a Lot of Money
Binance Launchpad isn't bringing in a lot of money. Datalight found that Binance raised about $28 million over its first five sales. By contrast, Gate.io raised over three times as much in roughly as many sales. (Bitfinex's $1 billion LEO sale is an outlier. It was conducted to replace missing funds.)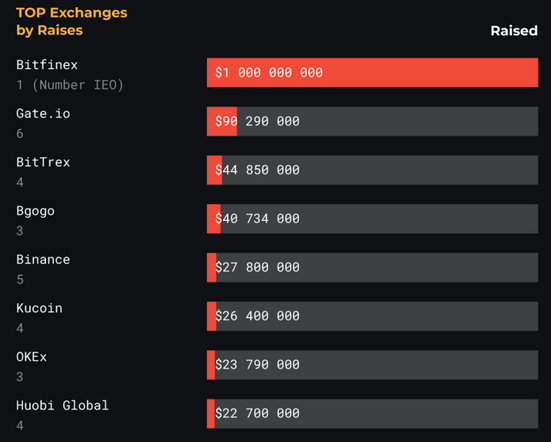 Each of Binance's IEOs have typically raised amounts in the single-digit millions. BitTorrent raised about $7 million, while Celer raised about $4 million. Fetch.AI raised roughly $6 million, with Matic pulling in close to $5 million. As of October, Binance Launchpad has run ten IEOs, each of which has raised similar amounts.
Zhao has explained why Launchpad keeps its prices low. In the Q&A mentioned above, he argued that "When the initial sales price is low, we necessarily generate very high demand." This can help drive prices upward later on, even though it prevents some users from buying tokens during the IEO. "It is a rush sale type of event," he concludes.
---
Returns on Investment Were Excellent This Summer
Even though Binance Launchpad hasn't raised a lot of money, it is excelling by one measure: return on investment (ROI). Coinsflare Research suggests that Binance's IEOs produced an ROI of 521 percent in the second quarter of 2019. By contrast, ROIs at Kucoin, Huobi, Bitfinex, and OKEx hovered around 100 percent or less.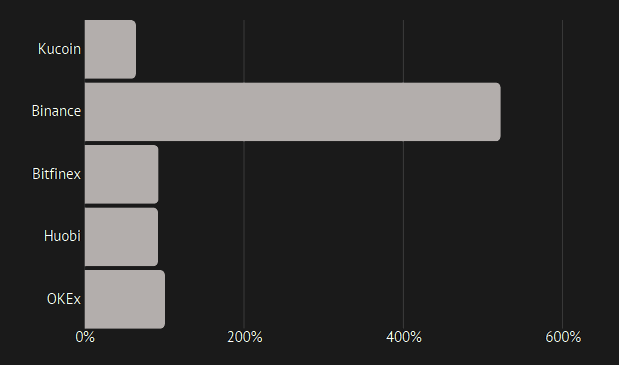 Datalight's survey produced similar results. It found that, as of June, Binance had the highest to-date ROIs and the highest all-time-high ROIs—534 and 2,356 percent, respectively. It also found that, as of June, Binance was responsible for the three sales with the highest to-date ROIs—namely BitTorrent Token, Matic, and Harmony.
However, live data from Cryptorank.io suggests that to-date ROIs have fallen for most exchanges. Binance still dominates with a to-date ROI of 82 percent, but the ROI gap is now very narrow, and Gate.io currently dominates ATH ROIs. Regardless, Binance Launchpad remains among the top-performing IEO platforms by all ROI measures.
---
Can Binance Maintain Its Edge?
Binance's strategy may or may not allow Launchpad to remain a significant force in the IEO market. Its IEO sales are exclusive events, which might drive hype. However, Binance's restraint gives competing exchanges a way to overtake it in terms of activity. Some exchanges are clearly willing to set high prices and run plenty of IEOs, at least briefly.
That said, Binance and other exchanges probably won't run astronomical numbers of IEOs. During the height of the ICO boom, over a thousand ICOs took place monthly, creating cutthroat competition between crypto startups. A comparable IEO boom is unlikely to occur; currently, there are only a few dozen per month in total.
Yet new entrants might increase the IEO market. Coinbase, for example, has announced its own IEO platform. As more exchanges conduct IEOs, and as time goes on, there will be more data to draw from. Outliers should have less of an effect on IEO statistics, helping paint a clearer picture of the market.