Bitcoin Lightning Strikes Binance Coin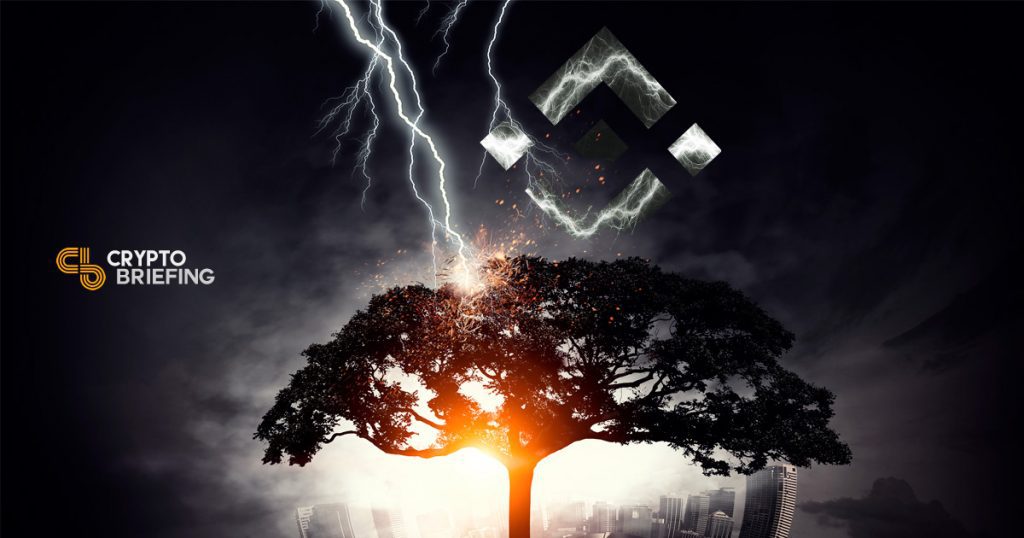 Binance Coin (BNB) is now comfortably perched in the No. 10 spot among the biggest cryptocurrencies, with its value ballooning more than one-third in the last week alone. Although there are signs of a pullback, it might not be too long before BNB nudges Stellar out of the No. 9 position.
This recent stroke of luck could have something to do with lightning striking BNB through Bitcoin's second-layer payment protocol. Binance CEO Changpeng "CZ" Zhao now holds the Bitcoin Lightning Torch, which he received via a Lightning Network payment of 3,210,000 satoshis from the previous torch holder, TravelbyBit.
The Bitcoin Lightning Torch is a movement being documented on Twitter. Lightning payments are passed between nodes, with the invoice amount rising by about 10,000 satoshis with each transaction.
A Norwegian bitcoin investor who goes by the handle "hodlonaut" on Twitter explained to Crypto Briefing: "You don't need your own node, you can participate by using a custodial wallet on your phone, like BlueWallet." Hodlonaut is credited with starting the #LNTrustChain, as it's known on Twitter, and even he is surprised by the results.
"I think this thing has become a symbol of economic free speech and community spirit. I never imagined it would get his big of course."
CZ suggests "data shows this torch brings good luck," and if the performance in the BNB Coin is any indication, there could be some truth to this theory.
At the time of writing, the torch is worth approximately $116.
Apparently, I hold the torch now. #LNTrustChain

I must say, it feels very cool in my virtual hand. 🙂 Who should I send it to next? https://t.co/gLyA2qmRpW

— CZ 🔶 Binance (@cz_binance) February 11, 2019
---
Paying for a Tesla with BNB?
The question now is, to whom will CZ pass the torch next? The crypto community was not short on suggestions. The current trend involves keeping mainstream icons in the loop, as evidenced by Twitter CEO Jack Dorsey recently holding the virtual flame. For his part, CZ is strategically targeting Tesla Co-Founder Elon Musk, even telling Litecoin Founder Charlie Lee to wait his turn.
Musk is no stranger to Bitcoin and has previously revealed that he owns 0.25 BTC. As CZ pointed out, however, Tesla hasn't added BNB as a payment method, at least not yet. This could be a hard sell, considering that Musk doesn't even follow CZ on Twitter.
One person who does follow the Binance CEO and may be angling for the torch is Galaxy Digital Founder Michael Novogratz. In a convenient stroke of fate, Novogratz already follows CZ, so there is one less hurdle to clear.
Congrats. Fun to watch how well you and your team are doing #inspiration.

— Mike Novogratz (@novogratz) February 11, 2019
Novogratz has been crypto's biggest advocate on Wall Street, most recently suggesting that his investment management peers earmark 1% of their portfolios to bitcoin. What's prevented them from doing so thus far, he says, is the inevitable wave of questions that are bound to flow from investors in the wake of any BTC allocation, not to mention the need for more crypto infrastructure before big investors feel comfortable jumping in.
While bitcoin's dominance remains at nearly 53%, BNB is the rock star in today's crypto market, most recently having added nearly 4% to its market price as the BTC price meanders in and out of positive territory. In the off chance that lightning strikes twice, the bitcoin price could hit $4,000 in the next market rally.
This story has been edited to reflect the qualifications needed to participate in the Bitcoin Lightning Torch game.
---
The author is invested in digital assets, but none mentioned in this article.