Market Commentary: Bitcoin Price Recovers, DeFi Garners Recognition
But Apple is unlikely to join the Ethereum DeFi space.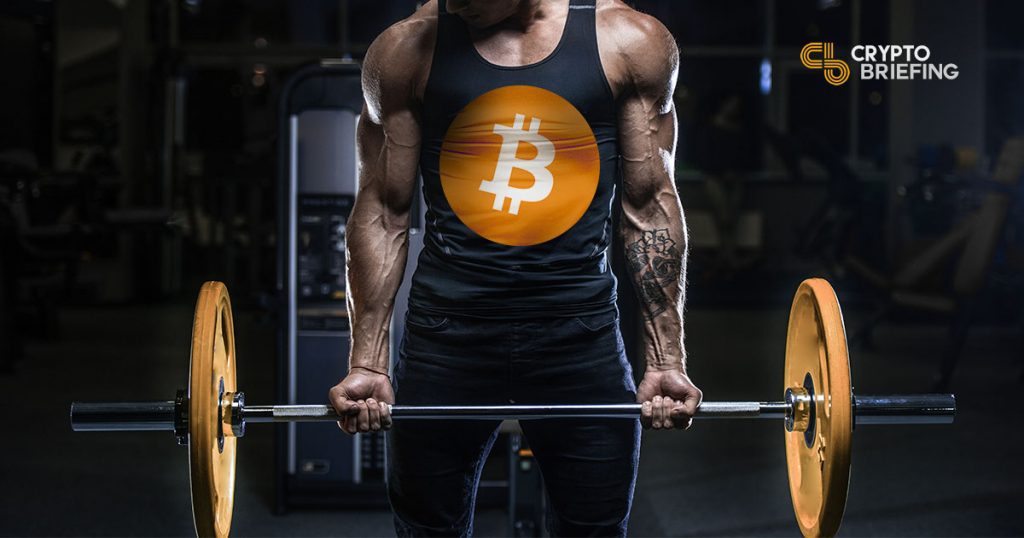 Bitcoin seems to be on its way towards recovery, after a promising start today. The leading cryptocurrency has gained approximately 3%, which puts it well above the $8000 price level. Altcoins are largely following suit, with Tezos and Chainlink gaining above +8%.
EOS' price reaction to yesterday's SEC fine is curious – in that there hasn't been any. Its price rose together with Bitcoin, and considering that Block.one paid $6M more for voice.com, the news can almost be considered bullish. While the timing is interesting, it's unlikely that the news formed a catalyst for Bitcoin, which has never been accused of being a security.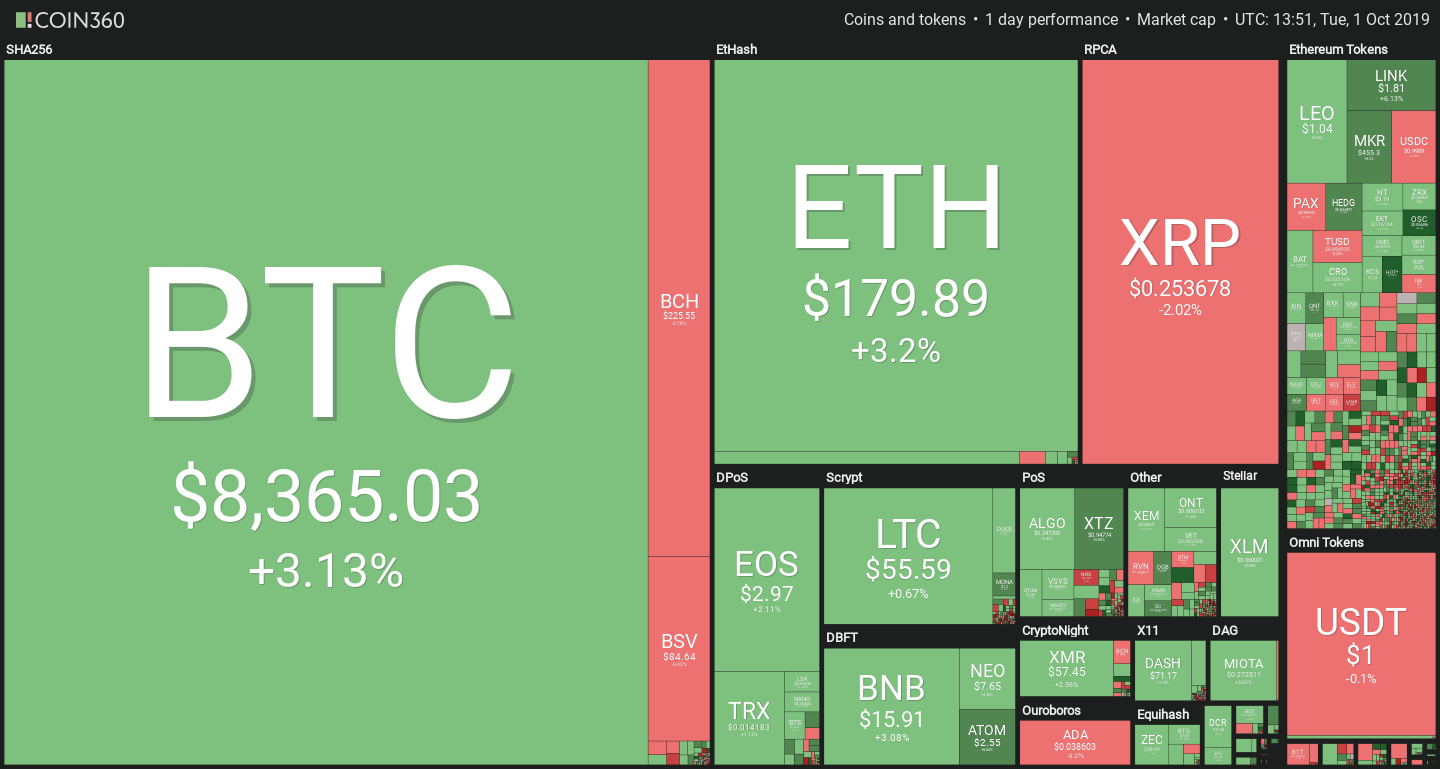 ---
DeFi and Cosmos propelled KR1's profitable first half of 2019
The UK-based investment firm KR1 published a report celebrating its £4.5M profit for the first half of 2019. While the parabolic rise of Bitcoin from $3000 to $13,000 certainly helped, CEO George McDonaugh also credits some of the company's more exotic investments.
"This result was largely driven by the successful launch of the Cosmos network, one of our most successful investments to date," he explains. "As announced previously this year, a part of our strategy is to 'stake' our Cosmos ATOM to produce a generous monthly staking yield, recognized in the revenue of GBP116,788 over the three and a half months period since Cosmos' launch on 14 March 2019."
While the company does not disclose the total percentage yield or investment sums for a complete picture, it believes that there is a place for PoS projects in institutional portfolios. "We believe Cosmos, Polkadot, Dfinity and other Proof-of-Stake blockchains are going to yield healthy cash flows to the business going forward to support operations and keep our cash balance strong," McDonaugh continued.
Another promising money maker is Decentralized Finance, defined by KR1 as Ethereum-based providers of decentralized lending, credit, exchange and insurance.
"Given the risk and immaturity of these markets and products, the DeFi space provides yields and rates not available anywhere outside of the sector," noted McDonaugh. KR1 did not shy away from these risky investments, backing projects such as Nexus Mutual, Argent and Melon Protocol. "All those projects are live and thriving with strong growth and interest," he concluded.
---
Apple will pay the consequences of Ethereum Name Service Bug
The Ethereum Name Service (ENS) is a blockchain alternative to the more familiar DNS, though it routes domains to Ethereum wallet addresses, instead of IPs.
One way to obtain an ENS domain is through the OpenSea decentralized auction, which as most things is prone to bugs. A recent vulnerability allowed a hacker to obtain valuable domains such as apple.eth, pay.eth and wallet.eth.
The cause was improper input validation, as the attack fooled the system into thinking the bid was for a lower value domain, thus bypassing the auction entirely.
---
Bitcoin Price Commentary By Nathan Batchelor
Bitcoin is attempting to build on yesterday's bullish momentum as we head into the U.S trading session, following a much-needed recovery back towards the BTC / USD pair's 200-day moving average.
Yesterday, buyers failed to close the trading day above the cryptocurrency's 200-day moving average, with the $8,500 resistance level so far capping the advance.
Going forward, I believe that not only does Bitcoin need two consecutive daily price closes above its 200-day moving average to encourage the next phase of the rally, we also need to see the market cap of the entire cryptocurrency market recover above its 200-day moving average.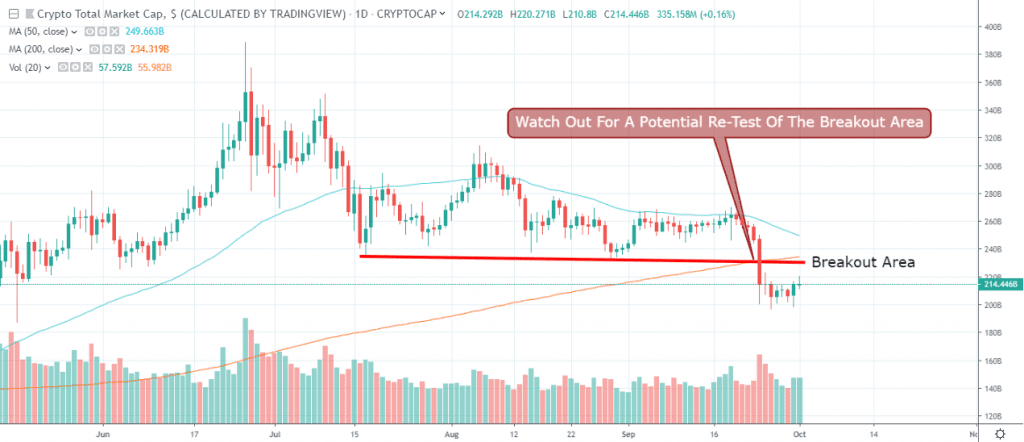 With this is mind, the broader cryptocurrency market is still extremely vulnerable to a bearish reversal until the total market cap turns technically bullish again.
Last week's bearish breakdown in the market cap of the entire cryptocurrency market was a big deal for traders. Market capitalization had been technically bullish since April 2nd this year, with traders feeling confident to buy dips in most of the larger digital assets.
With Bitcoins market dominance trading close to sixty-seven percent, it would appear that a powerful rally above the $9,000 level may be needed to encourage a test towards the 200-day moving average of the total market cap.
Failure to return the markets status to technically bullish could weigh heavily on the market this month, while a quick resumption of the bullish trend is sure to encourage Bitcoin bulls to re-enter the market.
* Bulls need to overcome the BTC / USD pair's 200-day moving average or they risk another bearish set-back towards the September trading low. *
SENTIMENT
Intraday bullish sentiment for Bitcoin has weakened, to 35.50%, according to the latest data from TheTIE.io. Long-term sentiment for the cryptocurrency has ticked-down slightly, at 63.20%, but still remains positive.
UPSIDE POTENTIAL
The $8,500 level is currently the key resistance level that bulls need to break today, in order to encourage an attack towards the $9,000 resistance level.
The four-hour time frame currently shows that the 50-period moving average is capping moves higher and is located around the $8,470 level. The 100-period moving average on the mentioned time frames is currently found at the $9,300 level.
DOWNSIDE POTENTIAL
The one-hour time frame currently shows that the $8,100 level is the strongest form of support prior to yesterday's swing-low. Once below the $7,730 level, key technical support is located at the $7,500 and $7,100 levels.
---
A full version of Nathan Batchelor's Daily Bitcoin Commentary, together with his calls, is available to SIMETRI Research subscribers earlier in the day.