Crypto Cornucopia: A Blockchain Thanksgiving Feast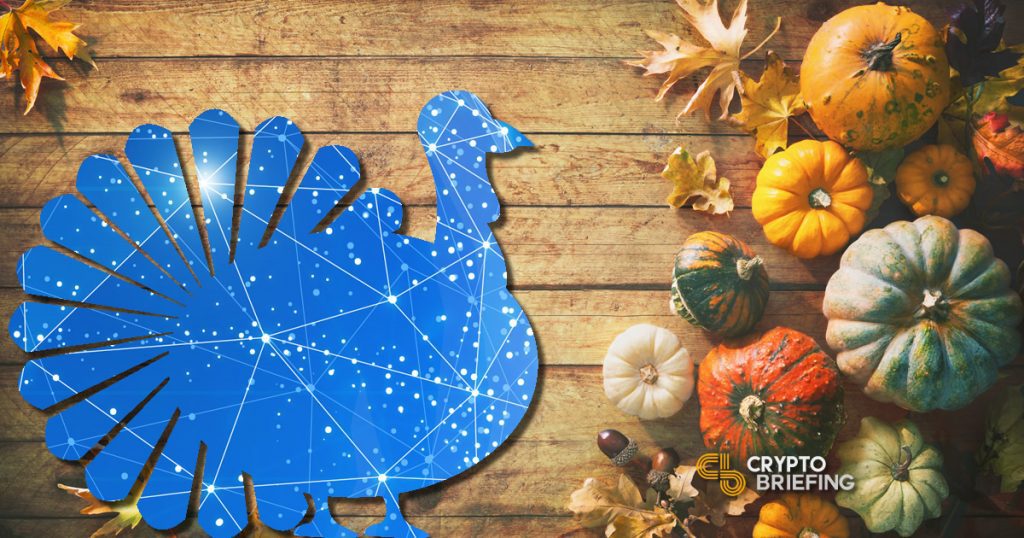 As Thanksgiving approaches, cryptocurrency investors are cruelly reminded that there has been no harvest this year. In fact, it looks like father Drought and mother Hash war have visited crypto land, leaving little cause for celebration at a time when investors were hoping to count piles of digital treasures.
But blockchain developers are using the downdraft as an opportunity to put their heads down and build without all of the noise and speculation that accompanied last year's bull run. Perhaps the rest of the crypto community should borrow a page from their books and give thanks for the blockchain revolution that is changing the world, despite the best efforts of Scrooges like Nouriel Roubini and Craig Wright to ruin things.
Thanksgiving is an "American custom and institution," one whose tradition of turkey and gravy is matched only by football rivalries and political debates. Why not shake things up a bit when passing the candied yams and steer the conversation away from Donald Trump, and towards crypto and the blockchain?
Here are a few ideas.
---
Tokenizing Turkey
When someone asks where you bought the turkey, recognize the opportunity to explain how the blockchain is disrupting the supply chain, which is traditionally centralized, fractured and difficult to authenticate. Whether you deep fry a frozen turkey for the crispy skin or go the fresh turkey route, the turkey came from somewhere, and the blockchain lets you track each step from farm to table as well as ensure food security.
The blockchain delivers transparency and tracks the food item, in this case, one of the tens of millions of turkeys that are consumed on Thanksgiving day, from its point of origin. It lets you know for certain that the bird on the table, whether purchased at Whole Foods or Walmart, actually came from the local farm and that it was stored at the right temperature on each leg of the journey.
Not only that, but the ledger can ensure that the turkey was raised in a sustainable way and was not a victim of "fraudulent welfare marketing" where animals are raised in despicable conditions or workers are exposed to danger.
Just be wary of any GOBBLE tokens, unless, of course, they're approved by the SEC.
---
Introducing A History Based On Truth
If that fails, you could simply do like Ethereum Co-Founder Joseph Lubin and explain that the blockchain is the "next internet." This new internet, however, is decentralized, allowing users to wrestle back control of their personal data from centralized powers like Google and Facebook. Tech leaders like IBM believe in it, and hundreds of thousands of developers are dedicated to building its next killer.
Let your imagination run wild for a moment and suppose that the Native Americans and pilgrims had access to blockchain technology in 1621. Imagine further that the very first agreement between them, the Pilgrim-Wampanoag peace treaty, designed to protect one another from any enemy tribes, was written on the blockchain and secured by what's known as a smart contract. Perhaps instead of trading coveted knives for beaver skins, they could have created their own native cryptocurrency to transact with.
This isn't just any contract. Considering that the blockchain is an immutable ledger, it cannot be plagiarized or altered in any way. This would ensure that whether you were a Wampanoag or a pilgrim, you would be protected, as would the integrity of American history.
---
SEC Tells ICOs To Stuff It
Speaking of turkeys, you might want to direct the table talk toward some of the risks lurking in the market, like ICOs. After all, U.S. regulators have basically told blockchain startups to stuff it, and while hindsight is 20/20, a tale about the industry's ill-gotten gains could be the best one of the day.
Investors have poured billions of dollars into these unregulated deals, and now nearly 90% of ICO tokens listed on crypto exchanges are trading below their listing price, as of October. That was before the most recent market crash in which cryptocurrencies shaved tens of billions of dollars from their value.
ICOs aren't evil, but they were riddled with investment scams that tainted the good ones. As a result, regulators became fixated on them, warning blockchain startups to register their tokens as securities. Stubborn founders continue to insist that their tokens were different, serving as utilities for the ecosystem and not centralized securities. The lesson here is that "if it walks like a duck and quacks like a duck, chances are it's a turkey. Wait… that's not right…"
---
Put A Fork In It
Before carving the turkey, use the moment to discuss hard and soft forks. This explanation lends itself to props that the Thanksgiving feast thankfully provides, so don't pass that up. While the Bitcoin Cash (BCH) hard fork was particularly hostile, they don't have to be.
Forks are upgrades to the software delivering enhanced features and a new direction on the blockchain. It's like changing the recipe for the turkey gravy or green bean casserole. Not everyone may be in favor of the new ingredients, which could lead to division at the table or multiple versions of the same item. It's rare for an upgrade to be as contentious as the one surrounding Bitcoin Cash.
---
Black Friday For Crypto Investors
Everyone appreciates a good sale, and cryptocurrency investors are no different. If you try hard enough, you can find a silver lining or glass-half-full in the current crypto bear market, one that involves a Black Friday sale for cryptocurrencies.
Despite the 70% decline in the BTC price since its December 2017 peak, some technical signals suggest it is massively oversold, and blockchain pioneers maintain that this year's bear market is no different than previous ones.
The author is invested in ETH