The Dogecoin Bubble May Have Finally Popped
Dogecoin's massive bubble has finally burst, with the path to higher prices looking murky.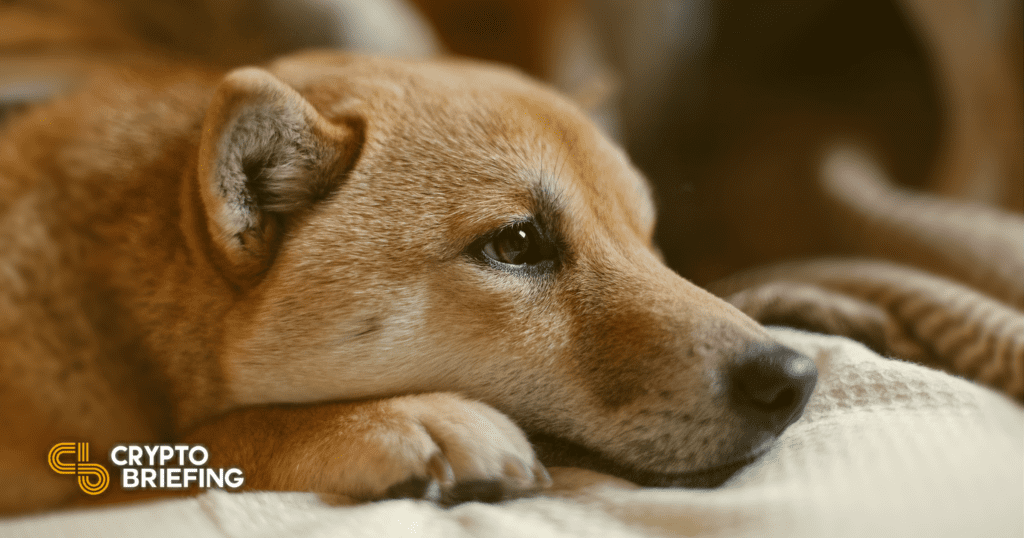 Key Takeaways
Dogecoin started the year at $0.004, and the price grew to $0.74, an astounding return of 18500%.
The prevailing market conditions are incredibly risky for holders of meme projects like Dogecoin.
Within a month, the price has crashed by more than 70% in what appears to be a bubble burst.
Amid Bitcoin's ongoing correction, Dogecoin is crashing at a far quicker pace in what looks like a bubble that has burst at last.
Dogecoin's Decline
China's recent restrictions on Bitcoin mining has caused turmoil in the market. Since the last month, the overall crypto market has lost almost half its value, coming down from $2.5 trillion to now $1.3 trillion.
The prevailing market conditions may even be worse for holders of popular meme projects, that are perceived to be of zero value other than their comical nature. Let's look at the father of all meme coins, Dogecoin which is losing its billions market capitalization each week.
Looking at the $doge price right now and we still have like 19,000% to go. Very bearish, but I can't bring myself to sell in this range, so I'll just keep DCA'ing into projects with real fundamentals.

— αlphα better (@all_of_CT) June 22, 2021
Dogecoin started the year at $0.004, and the price climbed as high as $0.74 per coin on May 8, an astounding return of 18500%. In other words, if you had invested $1,000 in Dogecoin on Jan. 1, it would have turned into $185,000.
But the Dogecoin bubble finally seems to have popped. Since May 8, the price has crashed by more than 70% and is currently trading at $0.18, as per CoinGecko.
According to many financial analysts, Dogecoin's ascent was driven by hype and support from tech billionaire and CEO of Tesla Motors Elon Musk. Musk, who is considered by many a tech thought leader expressed admiration for the meme coin with his 57 million followers.
This was the catalyst for the 2021 Dogecoin mania that followed.
Really was such a prescient meme. pic.twitter.com/iuneAUJCss

— Autism Capital 🧩 (@AutismCapital) June 22, 2021
The coin also received endorsement from rock musician Gene Simmons, rapper SnoopDogg, and hundreds of social media influencers, all of which further boosted its popularity among novice investors.
Amid this growing traction, WallStreetBets, a well-known subreddit dedicated to investors, hopped onto the Dogecoin bandwagon. This caused a crowd pump campaign, a collaborative effort to elevate Dogecoin's price similar to the orchestrated pump of GameStop (GME) stock earlier this year.
Downward Momentum
On May 8, Dogecoin's attained its all-time high price of $0.74, the the very same day when Musk promoted it during his SNL appearance.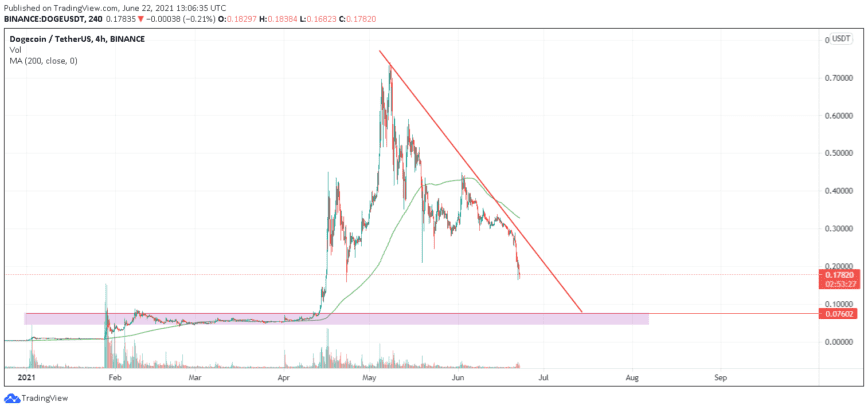 Currently, the coin continues downward movement within a clear descending triangle and changing hands far below its 200 day simple moving average on 4H chart above. If the decline picks up, the coin may well be heading towards its long time critical level around ~$0.08.
Doge's supporters are optimistic about the project's perceived utility in payments as well lower transaction fees in comparison to Bitcoin and Ethereum. In fact, sport teams like NBA's Dallas Mavericks and MLB's Oakland Athletics already accept dogecoin payments for tickets to their games.
Despite the massive decline in Dogecoin since its May peak, the cryptocurrency is still up more than 4500% year-to-date.
Doge's current market capitalization is ~$23 billion which places it in the top 10 coins. DOGE is ranked ahead of crypto projects such as Chainlink, Solana, and Polygon, despite the greater utility offered by these projects in the decentralized application space. For a project that launched as a joke, Dogecoin has accomplished great feats.
However, it is evident that celebrity endorsements coupled with a crowd-led pump was the prime catalyst for the rise in DOGE price. As a result, unless the coin gets more celebrities and influencers to promote itself, the road to higher price points looks murky at best.