Crypto Sentiment Almost Never Lies: 5 Hot Coins, And 4 Cold Fish
How a strong community and expanding use-cases affect sentiment.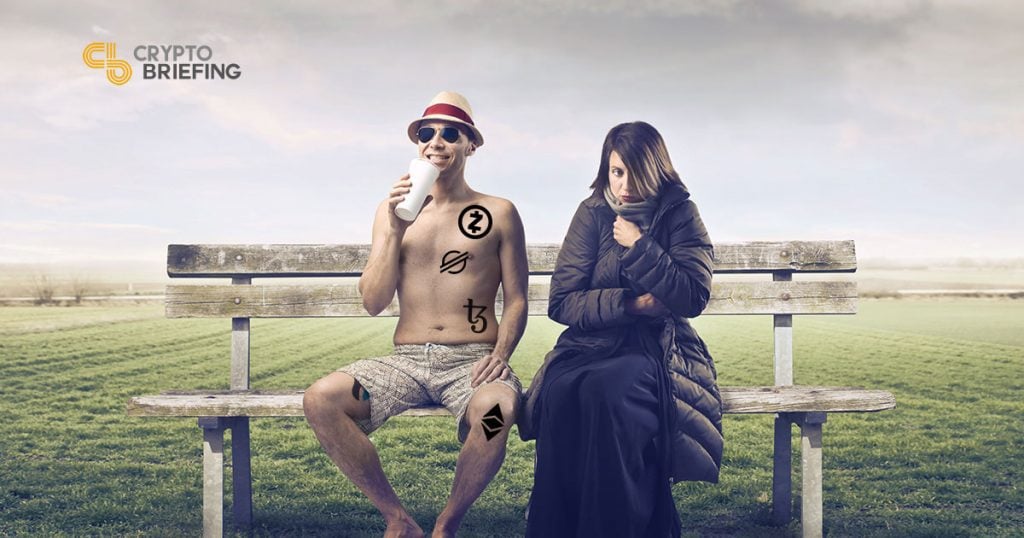 Well, that rally was short. Just as traders started to get excited for the 2019 altseason, cruel fate snatched it away again. As Crypto Briefing suggested yesterday, the latest sharp rise may have been nothing more than a temporary short squeeze.
A short squeeze usually involves unexpected good news or a change in crypto sentiment. There wasn't much in the news yesterday, so that means yesterday's price action could have been a result of cascading liquidations, which can sometimes cause exponential rises like the following: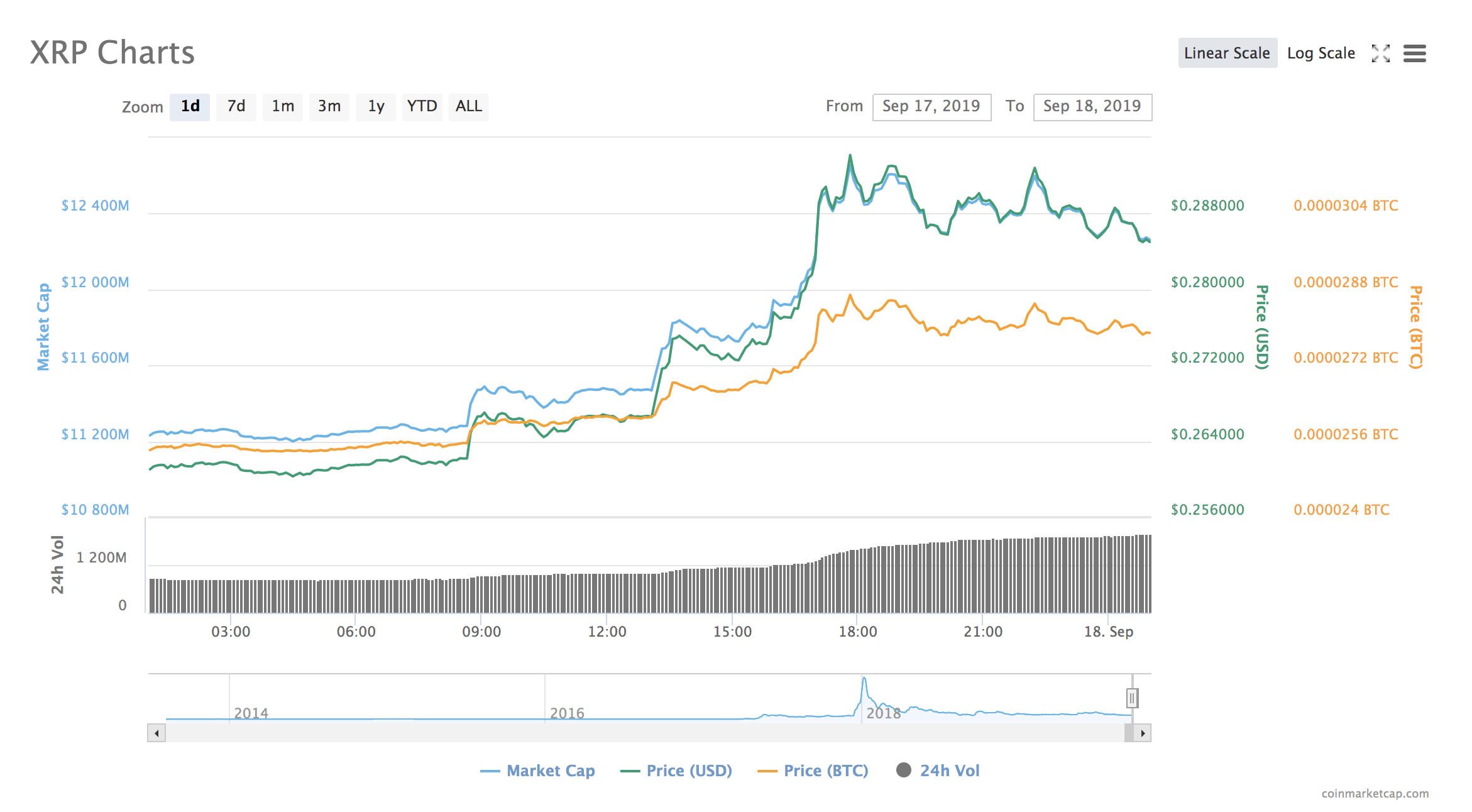 Despite today's sea of red, momentum could still be building for an altcoin rally this year. According to sentiment analytics site The TIE, a handful of coins in the top-30 by market cap have seen a consistent increase long-term sentiment – a measure of the positivity of Twitter conversations over the past fifty days vs 200 days.
They are: Stellar Lumens (XLM), Huobi Token (HT), Tezos (XTZ), Ethereum Classic (ETC) and Zcash (ZEC).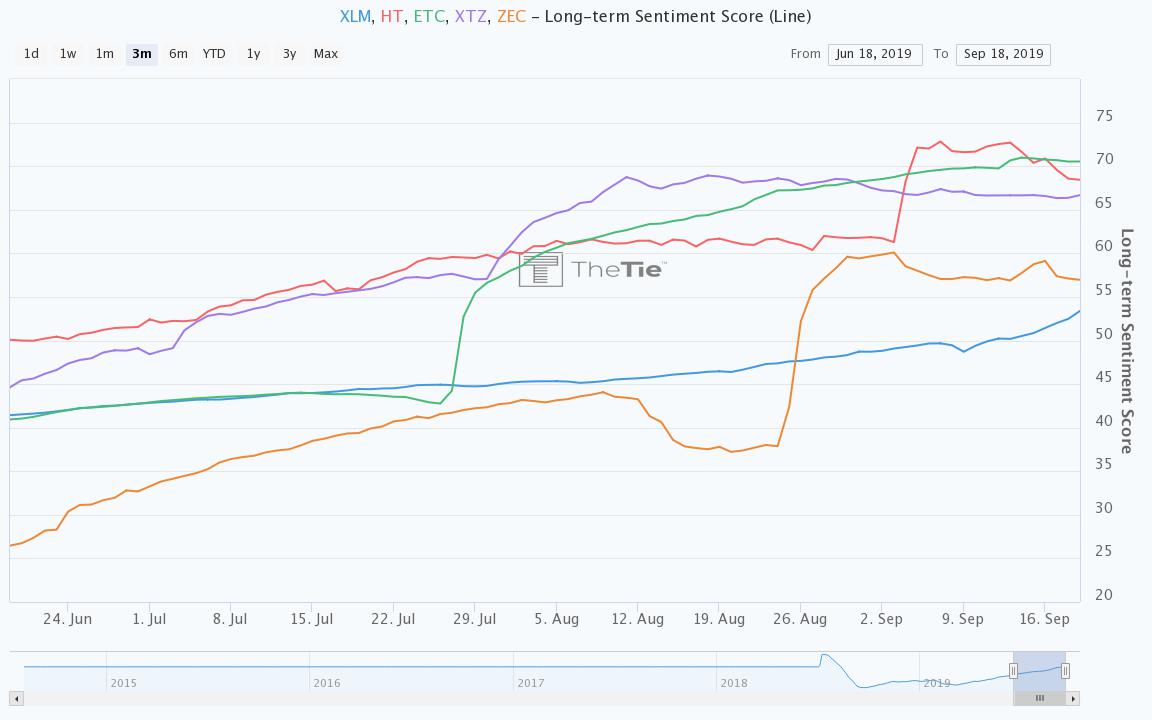 ---
What's driving bullish crypto sentiment?
On the face of it, there's no obvious connection linking these otherwise-diverse cryptocurrencies together. But they do have one trait in common: in the past three months, each of these currencies has either made itself accessible to a broader base of investors, or exhibited a vibrant, sometimes combative, community.
Let's start on the largest currency in question. As the graph above shows, Stellar (the blue line) has been on a gradual but consistent climb over the past three months. This increase was likely affected by two events. One was Coinbase listing XLM back in the middle of March, which appears to have kickstarted the uptrend; the other was the Stellar Foundation announcing its first 100M Lumens airdrop to Keybase users earlier this month.
These developments made XLM accessible to far more users than before. That may not make it an obvious candidate for a rally, but when investors do turn bullish, XLM will likely be one of the most popular targets.
Sentiment for both Tezos and Huobi Token rose for similar reasons. XTZ's rise (purple line) came in response to the coin being listed by both Coinbase and eToro in early August. Huobi announced that its new blockchain-powered smartphone could be purchased with HT (red line) in early September, coinciding with the sudden surge in sentiment for the token.
But different factors drove bullish sentiment for Zcash and Ethereum Classic. In both cases, investor confidence increased, thanks to signs that the community was both large and active.
In the case of ETC (the green line), sentiment surged after ETC Labs announced new support packages for teams looking to build on the platform. The same appears to have happened for ZEC (the orange line) during the ongoing community-wide debate surrounding the Founders' Reward.
This suggests that investors care about a strong, vibrant community for the same reason they value greater accessibility: both qualities show that the coin is alive and spreading to more users.
---
The coins that aren't doing as well…
This hypothesis plays out just as well if we look at coins that have experienced a decline in sentiment over the same time period. Let's take Bitcoin Cash (BCH), Litecoin (LTC), EOS and Cardano (ADA) as an example.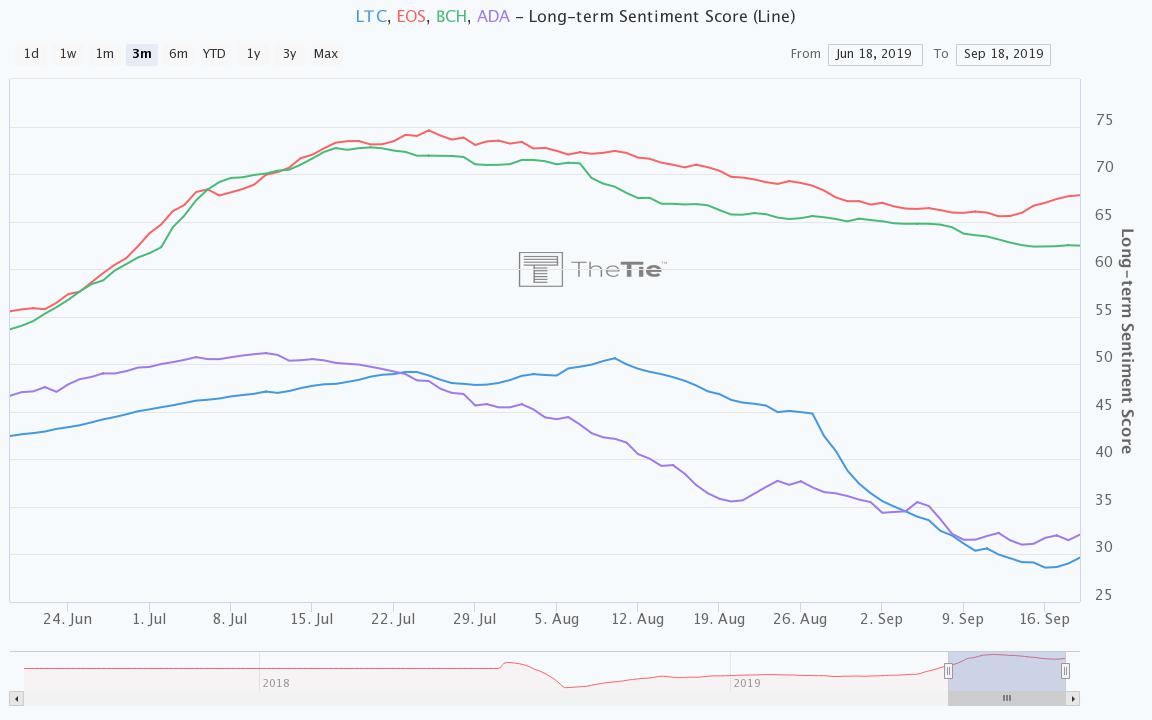 Cardano (purple line) has been quiet for much of the summer, with precious little in the way of headline development updates, expanding use-cases or community updates. Bitcoin Cash's (green line) full-time developer community has shrunk by more than a third over 2019, and EOS' (red line) original block producers have mostly been replaced by commercial operations following a controversial update, which allows stakers to get paid for votes.
But the prime example is Litecoin (blue line), which experienced a sudden change in sentiment following revelations that development had stalled. According to leaked transcripts, the Litecoin Foundation has been unable to sustain itself financially, and lifelines from founder Charlie Lee have done little to stem the wave of negative sentiment.
If this hypothesis is correct and yesterday's mini-rally was indeed a short squeeze, then it's clear that crypto sentiment has an oversized influence on market prices. Although this won't be the final word on which altcoins stand to benefit from a rally, it does show that investors, especially retail investors, tend to value a vibrant community with expanding use-cases.
Whether that ultimately converts into price gains is yet to be seen.