Dark Horses of dApps: 6 Blockchains With Ethereum In Their Sights
Can alternative dApp blockchains catch EOS, TRON, and Ethereum?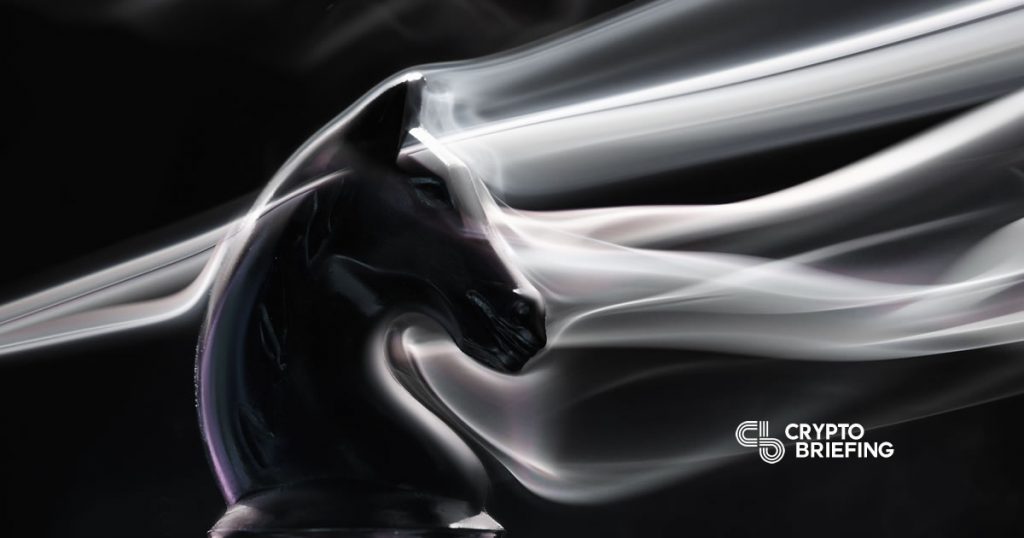 Right now, three blockchains dominate the dApp market: Ethereum, EOS, and TRON, which are responsible for about 95% of all deployed distributed applications.
On top of this, there are a few blockchains that don't have as many dApps, but which are popular due to their coin's high market ranking—such as NEO, VeChain, and Ontology.
Things are changing, though: dApp listing sites are starting to pin their hopes on smaller blockchains. This year, four of the biggest dApp listing sites began to list apps from up-and-coming platforms. Here's what the newest dApp blockchains have to offer—and an answer as to whether they really deserve the attention that they're getting.
---
IOST: The Internet of Services Token
IOST is specifically designed as a basis for online services. It boasts high speeds (8000 TPS) and low transaction fees, making it an ideal foundation for dApps. It also relies on a unique consensus mechanism called "Proof of Believability," which gives IOST's underlying network a high degree of decentralization despite its small size.
Since its February launch, IOST has performed well: it's the 70th largest cryptocurrency thanks to its $60 million market cap, and its 30 apps are listed on DAppRadar, DappReview, Dapp.com, and DAppTotal.
IOST's highest volume (and most heavily used) dApp is its DEX, which averages 215 daily users and handles about $13,500 per day. We have examined IOST and assigned an investment grade in our SIMETRI Research.
---
The Loom Network: A dApp Interoperability Layer
The Loom Network is a second layer solution that provides better performance for Ethereum dApps. It's also introducing compatibility with EOS, TRON, and Cosmos, which means that developers can release their Apps on multiple blockchains at once.
In short, the Loom Network is one of the most dApp-focused blockchains on the market, period. Our SIMETRI Research team has taken a very deep dive into its tech.
Loom's token has a $23 million market cap, making it the 135th largest cryptocurrency. It has about nine apps on DappRadar and DappReview, but its biggest apps are doing quite well: the learn-to-code game CryptoZombies attracts 250 users per day, while the creature trading game Axie Infinity handles $4100 daily.
---
Klaytn: Kakao's Foray Into Blockchain
Klaytn is a blockchain from Kakao, South Korea's most popular mobile messaging company. Klaytn's claim to fame is its hybrid nature: it combines the efficiency of private blockchains with the decentralization of public blockchains. This means that Klaytn has a large number of apps from enterprises, despite the fact that it is a public blockchain.
There are 10 Klaytn dApps listed on Dapp.com—and a few, such as the security suite Cloudbric, have thousands of daily users. However, since some of these web apps existed before Klaytn did, they may have benefited from a head start. The fact that Klaytn's token has no reported market value also makes its success difficult to measure.
---
Nebulas: A Blockchain With Analytics Features
Nebulas is a blockchain with a focus on analytics and searchability—in fact, it is sometimes touted as the blockchain equivalent of Google. This should make it a useful tool for developers and analytics websites alike. Currently, Nebulas' NAS token is doing quite well: it ranks at #126 and has a market cap of approximately $25 million.
Unfortunately, Nebulas is a ghost town: DAppReview lists 278 of its apps, but none of those appear to be active. This may be a cautionary tale of forced growth: as some community members have noted, Nebulas briefly rewarded dApp developers, who appear to have abandoned their projects upon receiving their payout.
---
TomoChain: Focusing On Scalability, Efficiency, and Accessibility
TomoChain is a blockchain that mainly offers scalability in the form of fast transactions (2000 TPS) and low fees—though it also has an extensible network of chains and custom tokens. It is additionally trying to facilitate access for end users with features like its zero-friction protocol, TomoZ, which handles transaction fees in a simplified way.
TomoChain hosts about twenty dApps, which are listed on Dapp.com and DAppReview. Its most used and highest volume dApp is its governance and staking app, TomoMaster, which handles $88,000 per day and averages 30 daily users.
The TOMO token, meanwhile, has a market cap of $22 billion, making it the 142nd largest cryptocurrency.
---
WaykiChain: A Blockchain For Gambling and DEXes
WaykiChain (WICC) is a blockchain with a focus on a few types of dApps—specifically prediction markets, decentralized crypto exchanges, and decentralized forex exchanges. It also offers high transaction speeds (starting at 3200 TPS) thanks to its DPOS consensus mechanism, which relies on eleven nodes to power the network.
WaykiChain's status is roughly on par with TomoChain: WICC's token is the 138th largest coin, and it has a market cap of $23 million.
WaykiChain offers about 15 dApps, which are listed on DAppReview. Its most used app, Wayki Paradise, sees about 40 users per day. Its highest volume app, which appears to be a staking app, handles $24,000 per day.
---
Are These Minor Blockchains Really Necessary?
Individually, most of these blockchains account for less than 1.5% of the 3,000 dApps in existence. Even though these platforms have unique technical underpinning and potentially powerful networks, the results are somewhat predictable: they've produced a few successful trading games, gambling games and financial apps.
But although dApp blockchains have gained visibility from listing sites, that might not be enough. GoChain is one platform that has taken this to heart: it has its own category on State of the DApps, but that page only lists three apps. Now, it's shifting its focus towards enterprise adoption and questioning whether dApps are ready for prime time.
It's also possible that listing sites are letting down blockchains by not keeping up with new dApp launches. Listings for small blockchains might not be getting a lot of upkeep, and there seems to be some inaccurate data—for example, some apps are active but have no recorded volume.
Perhaps today's dApp data is just the tip of the iceberg.
---
Note: where possible, daily dApp statistics have been averaged from weekly statistics and rounded off.