The Ethereum Ecosystem: Still Relevant After All These Years
Four years on, the Ethereum ecosystem is as healthy as ever.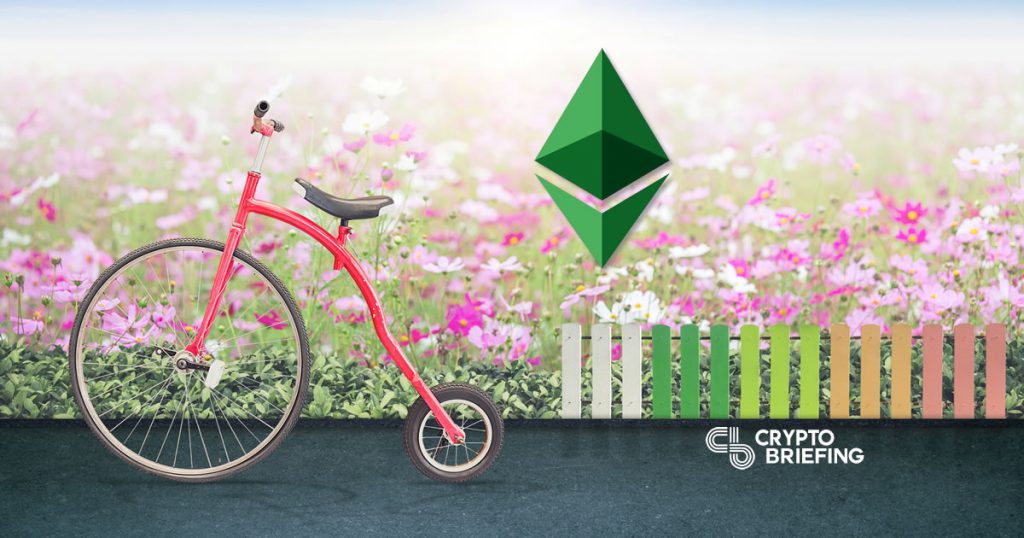 Ethereum first went live in 2015, and since then, it's become one of the market's top coins. And while four years may not be a lot in most markets, in crypto it's a lifetime. For Ethereum, it has been quite a ride.
With a market cap of $19 billion, Ethereum is the second largest cryptocurrency in existence, and recent reports show that it provides a benchmark for the market.
Of course, there's much more to its success: the Ethereum ecosystem is thriving in its own right.
In short, Ethereum is one of the most extensible blockchains. It offers developers the opportunity to create tokens, dApps, collectibles, financial applications, and more. Plus, Ethereum itself will soon be better than ever.
Here's what the Ethereum community is up to right now—and what the Ethereum ecosystem has to offer.
---
Dominance Over dApps and Tokens
Ethereum currently leads the dApp market with its sheer number of listings. Right now, it has a total of 2000 dApps—four times more than TRON or EOS, its closest competitors. Ethereum also closely matches those blockchains in terms of dApp volume—each platform handles about $10 million of crypto through its apps in a typical day.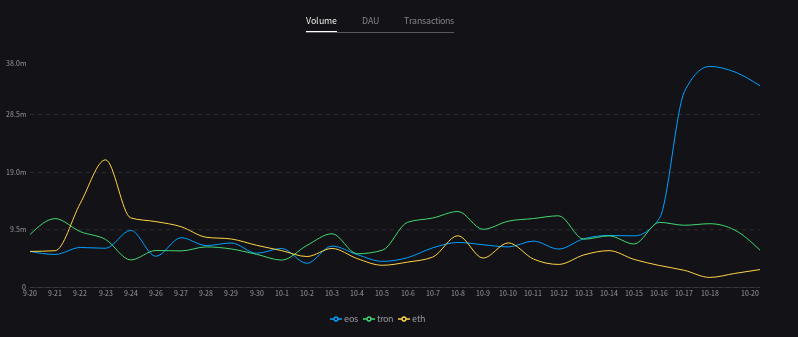 To be fair, EOS and TRON dominate in terms of dApp users and transactions (although many of these are simple gambling apps). Still, Ethereum has a few notable apps in those measures: MakerDAO attracted 2200 users on Monday, making it the third largest dApp by user count. Meanwhile, dYdX, a derivatives platform, handled $371,000 on Monday—making it the 9th largest app by that metric.
Ethereum's token standards are also incredibly influential. Of the top 50 cryptocurrencies by market cap, at least 20 are based on Ethereum's ERC-20 token standard—including big names like BAT and LINK.
Plus, Ethereum's non-fungible ERC-721 standard has begat collectible items like Decentraland properties and CryptoKitties.
---
New Opportunities For Investment
As Ethereum matures, there might be new ways to invest. Recently, the CFTC declared that Ethereum is a commodity, meaning that ETH futures may become an option for institutional investors in the future. It's conceivable that Bakkt might add ETH futures alongside its BTC futures—though it hasn't said so explicitly.
Additionally, there are some retail platforms that already trade Ethereum futures, such as BitMEX and Kraken. These options attract speculative investors who might not trade on the crypto market itself. Even though futures don't affect Ethereum's value directly, they bring value into the crypto ecosystem and facilitate price discovery.
There are other investment opportunities as well. MakerDAO, for example, allows you to lock up your Ether as collateral and create Dai stablecoins in return. Meanwhile, peer lending platforms like ETHLend allow you to earn interest by lending out Ether.
Suffice to say, there's a lot you can do with your Ether holdings.
---
Preparing For Ethereum 2.0
Ethereum's next big milestone will be Ethereum 2.0, which will introduce staking, which allows coinholders to earn rewards. It will also improve scalability through features like sharding, which will allow the blockchain to handle many more transactions. Though Ethereum 2.0 is a multi-year effort, staking should be available in the next few months.
At the moment, different Ethereum development groups are running separate testnets. These became interoperable in early September, and according to Ethereum's creator, Vitalik Buterin, a public network is rapidly approaching. This will be the "last major milestone [before] the network," Buterin stated during a recent event in Hong Kong.
Buterin has also suggested that the upgrade will be seamless. In a post on Ethresear.ch, Buterin suggested that app developers will need to migrate, but coinholders won't need to do anything at all: "You may want to move your funds into [an ETH2] wallet eventually, but you do not strictly have to and there is no time limit," he wrote.

---
Can Ethereum Stay Relevant?
Of course, not everyone is happy with Ethereum. Some dApps, such as Ethermon, have moved to blockchains like Zilliqa due to the promise of faster transaction speeds. Meanwhile, some projects with ERC-20 tokens have migrated to other platforms like Binance Chain. Finally, some critics believe that sharding is not secure.
But despite criticism, Ethereum probably won't go away. Its brand, market standing, its dominance over dApps, and its ability to drive hype for version 2.0 seem to be a winning combination.
Though it has many competitors, Ethereum has first mover advantage and the biggest developer community in crypto —giving it a head start and making it the favorite to continue to tower over the competition.