Extreme Bitcoin, Ethereum Demand Add Fuel to Crypto Bull Run
Bitcoin and Ethereum supply on exchanges continues dropping. The supply shock appears to be one of the main drivers behind the on-going bull rally.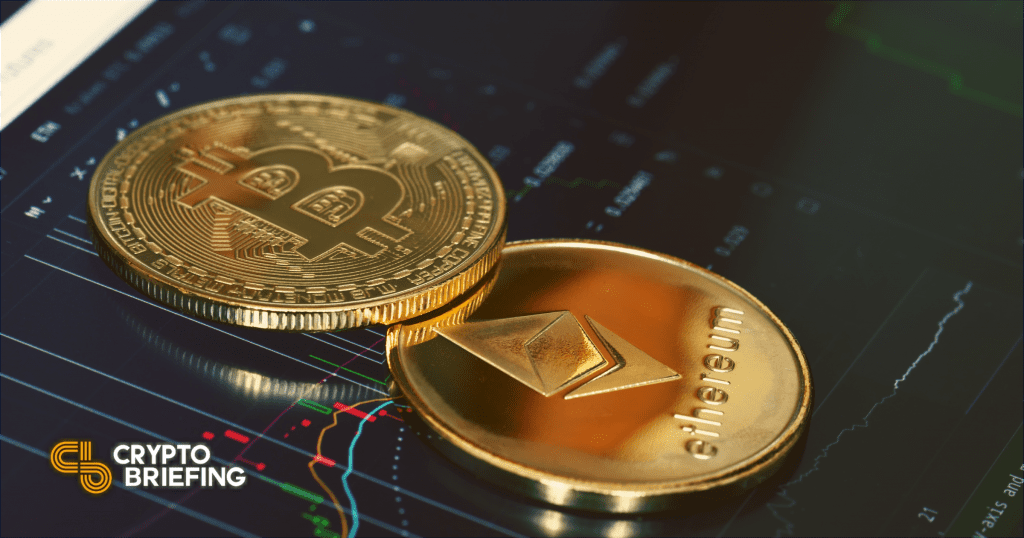 Key Takeaways
Bitcoin aims for $41,400 following a significant rebound from the $30,000 support level.
Likewise, Ethereum broke out of a consolidation pattern and now targets new all-time highs.
The high levels of demand for these digital assets suggest that a new bullish cycle has just begun.
Whales appear to have bought the Bitcoin and Ethereum dip following a steep correction on Jan. 10. Now, these cryptocurrencies have regained crucial support levels, reclaiming nearly all lost ground.
Bitcoin Aims for Higher Highs on Low Trading Volume
Bitcoin experienced one of the largest one-day corrections since March 2020's Black Thursday shortly after surging to a new record peak of $42,125.
The flagship cryptocurrency saw its price plummet by more than 26%, hovering at a high of $41,230 to hit a low of $30,450 within a few hours.
On-chain analyst Willy Woo explained that unlike previous market crashes, the most recent one was triggered by spot markets and "greatly amplified" by Coinbase's system outage. Roughly $1.70 billion were liquidated across the board, crushing overleveraged investors' dreams of further gains.
"Spot market sell-off started around $38k, then Coinbase partially failed, not registering buys, causing its price to go $350 lower than others, this pulled down the index price that futures exchanges use to calculate leverage funding, wreaking bearish havoc on speculative markets," said Woo.
Despite the significant losses incurred, Bitcoin was able to rebound from the 100 moving average on its 4-hour chart as the Tom Demark (TD) Sequential indicator presented a buy signal. On-chain data reveals that whales took advantage of the downswing to add more tokens at a discount to their portfolios.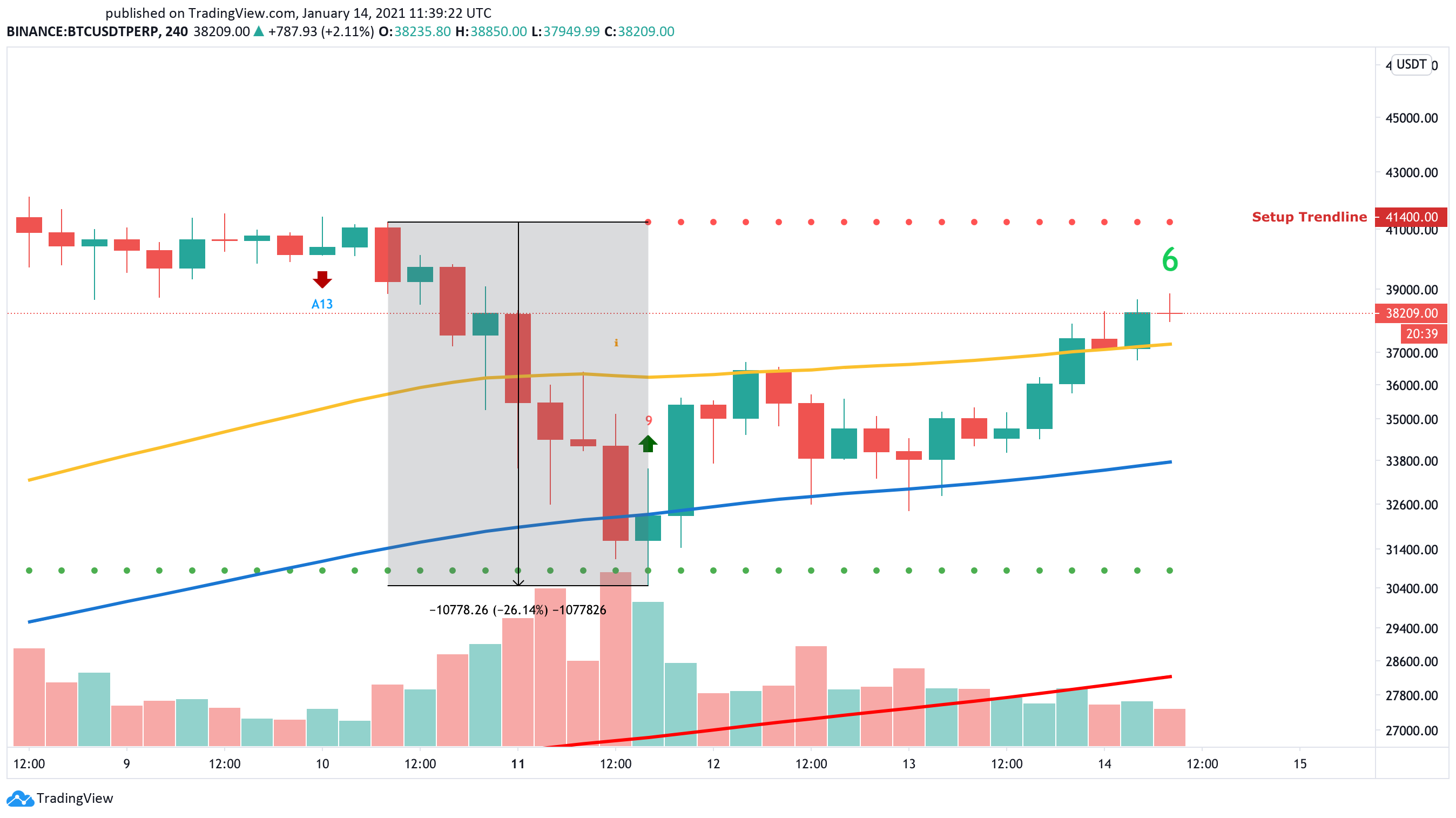 Indeed, the number of addresses holding more than 1,000 BTC surged by nearly 1% as Bitcoin tumbled. Roughly 20 whales joined the network over this short period, helping prices recover promptly.
The sudden upswing was significant when considering these large investors hold more than $380 million worth of BTC. Primarily, it shows high-net-worth-individuals' conviction about Bitcoin's potential to advance further, given the low supply ratio that now sits on exchanges.
If the buying spree continues at the current rate, Bitcoin will likely aim for higher highs.
However, the setup trendline at $41,400 may pose a certain level of resistance on BTC's way up. But if it manages to break through it, prices could shoot up towards the $50,000 mark.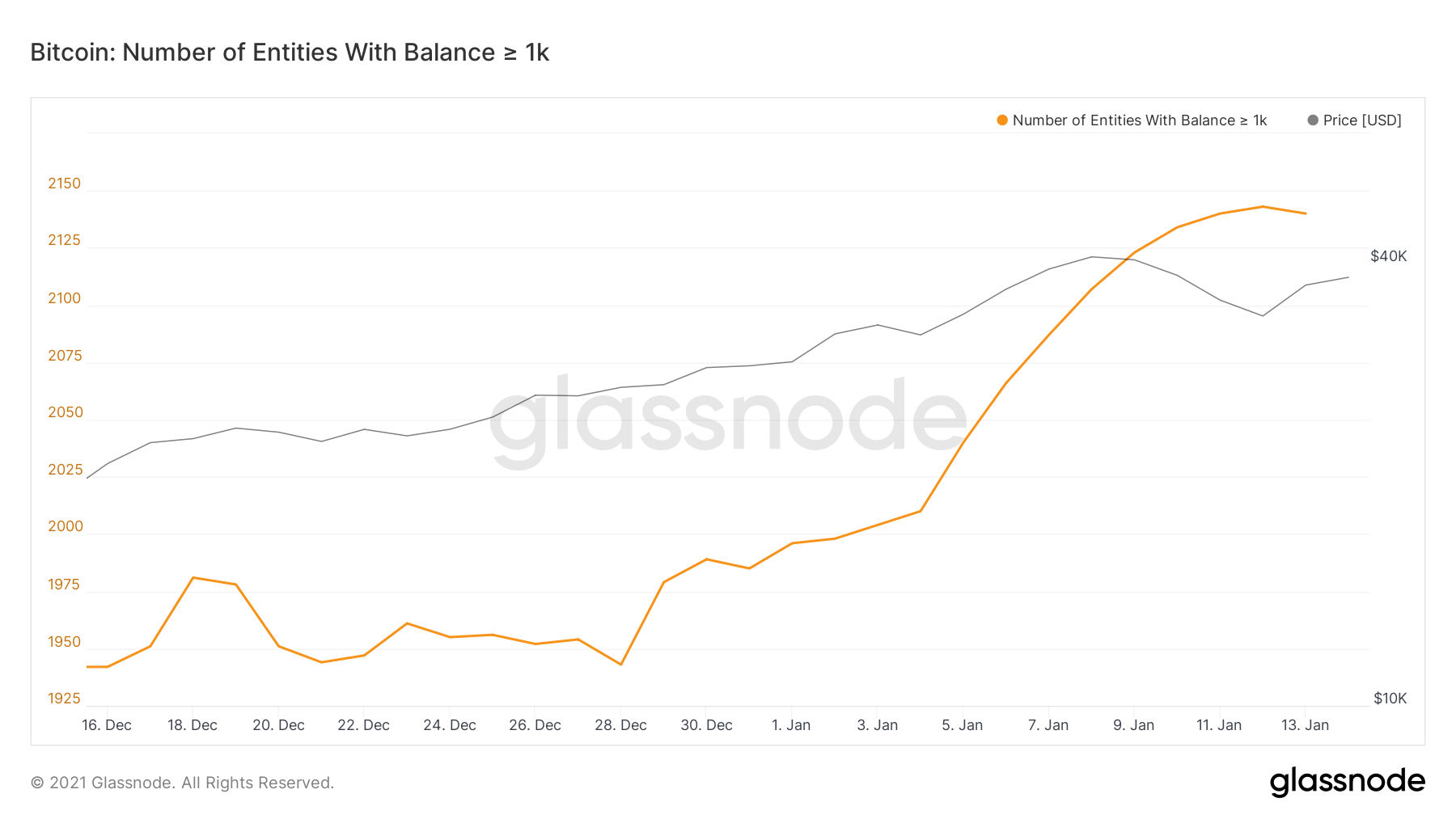 It is worth noting that the trading volume accompanying the recent rebound does not look promising, according to Skew. Therefore, investors must take a precautionary approach since a rejection from the $41,400 resistance level could result in a pullback towards the 100 or 200 moving averages on the 4-hour chart.
These crucial areas of support sit at $34,000 and $28,400, respectively.
Ethereum Rebound Primed as Crowd Grows Pessimistic
Cryptocurrency enthusiasts seem to have lost faith in Ethereum after its price dropped below the $1,000 support level.
Fear, uncertainty, and doubt took over social media as more than $630 million worth of ETH positions were liquidated across the board. The general belief was that Ethereum was never going to see triple digits again.
According to Santiment, the rising number of negative Ethereum-related posts on social media represents a positive sign.
As the market tends to behave differently than the crowds' perception, prices could rebound rapidly and "fake out a lot of the doubters."

The creation of an ascending triangle on ETH's 4-hour chart adds credence to the bullish thesis. Indeed, Ethereum could rise by more than 20% upon closing above the $1,150 support barrier.
This target is determined by measuring the distance between the triangle's two highest points and adding it to the breakout point.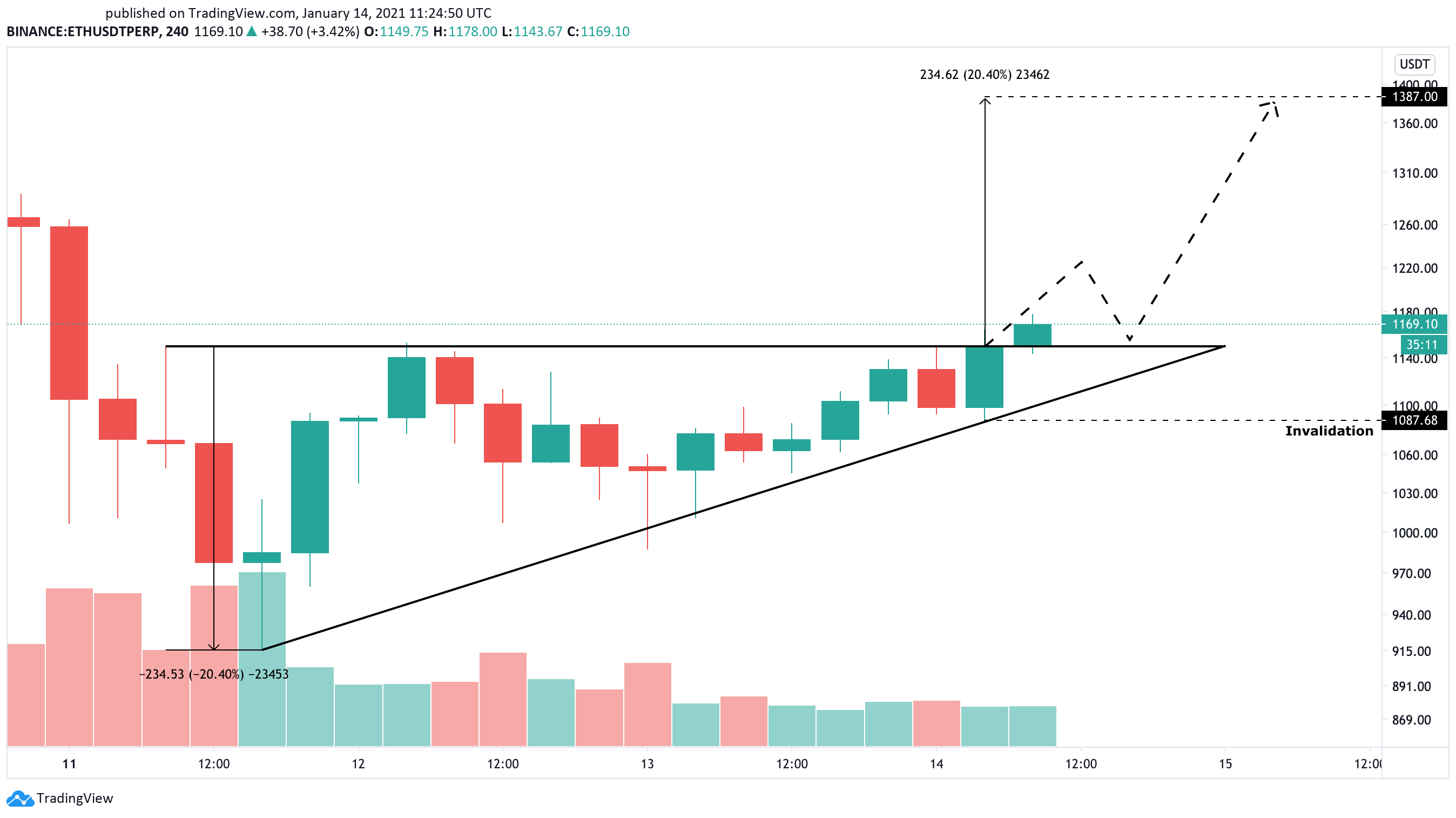 IntoTheBlock's In/Out of the Money Around Price (IOMAP) model reveals that the $1,150 level is the only hurdle ahead of Ethereum that may prevent it from regaining lost ground.
More than 150,000 addresses had previously purchased nearly 7.80 million ETH around this price point.
Such a significant supply barrier may keep rising prices at bay as holders within this price range will likely try to break even each time ETH goes up to avoid incurring further losses. But if the buying pressure is significant enough, prices will likely slice through the overhead resistance to meet the triangle's target at $1,400.

If Ethereum fails to close above $1,150, the bullish outlook will be jeopardized, leading to a steeper correction.
On the way down, prices may stabilize around the 100 or the 200 moving average on the 4-hour chart. These interest areas sit at $1,000 and $800, respectively.
The Cryptocurrency Market Moves Forward
Demand for Bitcoin and Etheruem is at record highs. This market development has seen a significant decline in the percent of tokens held on exchanges.
Even brokerage platform eToro is said to be dealing with limited liquidity, presenting challenges to its ability to support buy orders over the weekend.
The lack of supply and high buying pressure behind these digital assets are fuelling the on-going bull run. This could be the reason why whales appear to be increasing their holdings at every dip, resulting in clear V-shaped recoveries for BTC and ETH.
With institutional investors flocking into the cryptocurrency market to hedge against inflation, the future looks bright for these digital assets.
Therefore, it is imperative to pay close attention to Bitcoin's $41,400 resistance and Ethereum's $1,400 ceiling since moving past these hurdles will ignite another massive bull rally.
Disclosure: At the time of writing, this author owned Bitcoin and Ethereum.
For more key market trends, subscribe to our YouTube channel and get weekly updates from our lead bitcoin analyst Nathan Batchelor.