Here Comes the Sun: Is TRON's Sun Network Really Necessary?
TRON's Sun Network is set to boost the blockchain's DApp performance. But does TRON really need more speed?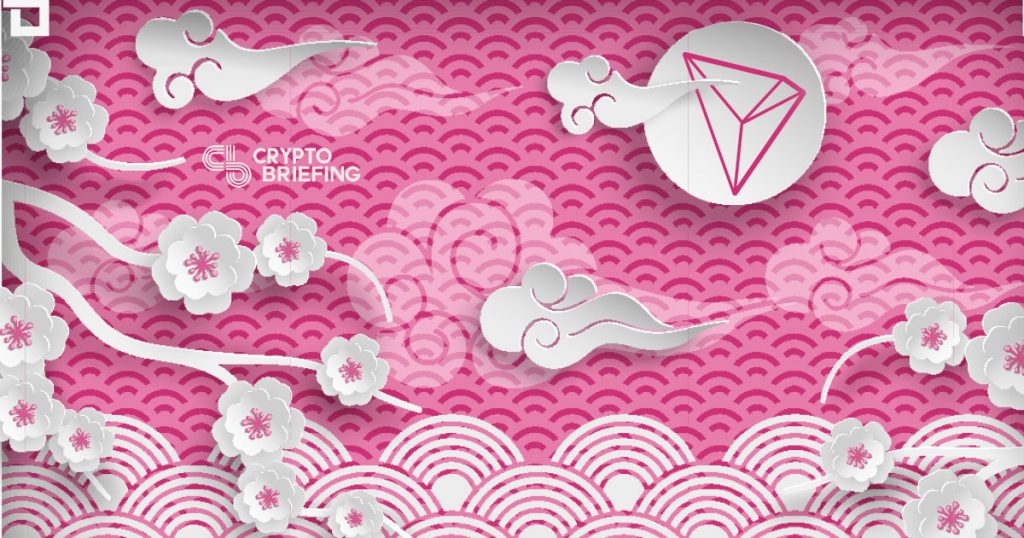 This week, TRON launched the Sun Network. Despite the name, this isn't just another place for Justin Sun to imprint his name. The new sidechain is also designed to improve scalability, dramatically increasing transaction speeds for TRON applications.
Right now, TRON's Sun Network is primarily focusing on one thing: DAppChain. This will allow TRON-based dApps to enjoy more efficient smart contract execution, better security, and reduced energy consumption, as well as faster speeds. It's also compatible with TRON's mainnet: users can transfer funds, and developers can migrate dApps.
TRON's Sun Network also allows developers to deploy their own custom sidechains, which will improve speeds to an even greater extent. In fact, each new sidechain will multiply TRON's throughput, according to official documentation. This does, however, raise one question: does TRON really need such a powerful new network?
---
The Need For Speed?
It's tempting to believe that TRON has been overwhelmed by DApps. Over the past year, it has attracted about 500 DApps, closing in on EOS (though Ethereum still dominates). TRON, EOS, and Ethereum are also competing closely in terms of transacted value. Each day, $5-10 million of crypto moves through the dApps of each blockchain: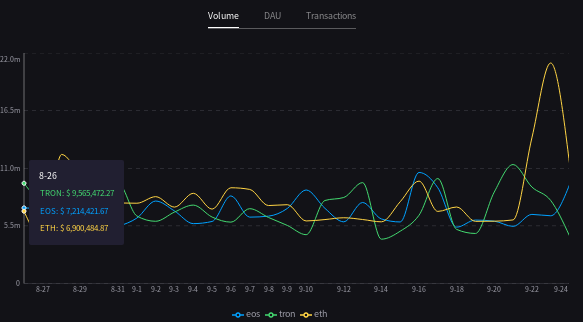 However, TRON's dApps don't appear to be a burden yet. TRON has long claimed to support 2000 TPS per second, but even at a more realistic throughput of 750 TPS, the network should be able to handle about 65 million transactions per day.
At present, TRON's dApps produce less than 1.5 million transactions per day: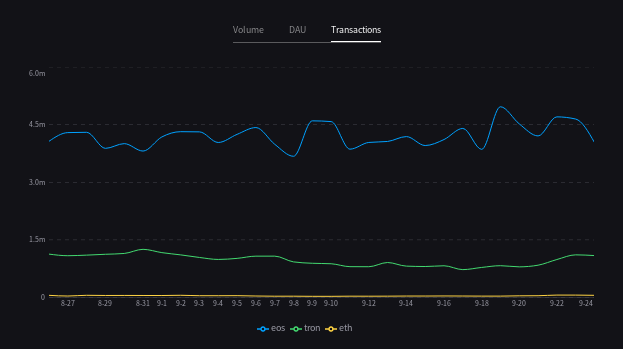 TRON isn't bogged down by non-dApp transactions, either—it is handling about 2.4 million transactions per day, total, according to TRONSCAN. At its peak, TRON handled about 5 million transactions per day. It seems that TRON's mainnet can handle current transactions several times over without the help of the Sun Network.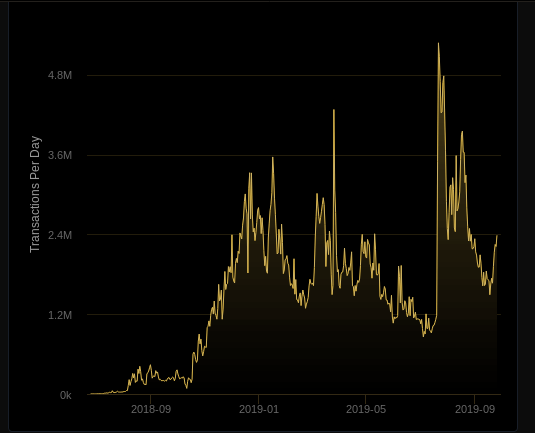 But daily transactions have been growing, as shown above. Although this growth is somewhat erratic, it might be wise to prepare for future growth ahead of time. Still, it will be a long time before TRON approaches its full capacity.
---
DApps, Hype, and Scalability
TRON is, to put it kindly, better at attracting attention than it is at producing innovations. Critics often accuse the project of being fueled by hype, and it's easy to see the Sun Network as another play for media attention. Perhaps TRON does need scalability – if only for the publicity it brings.
More generally, TRON's Sun Network is evidence that a specific type of platform is currently in vogue: dApp-focused scaling solutions. The Sun Network is in good company with the CELER Network and the Loom Network, which are trying to poach developers away from other blockchains and toward their interoperable sidechains.
These dApp-focused scaling platforms should be distinguished from the Lightning Network and the Raiden Network, which improve general transaction speeds for Bitcoin and Ethereum by offering payment channels. They aren't exactly targeted at app developers; rather, they are aimed at general and commercial users of cryptocurrency.
In any case, TRON will likely squeeze more hype out of the Sun Network (and its other projects) as time goes on. Plus, Justin Sun's long-awaited lunch with Warren Buffet is reportedly back on track after being delayed earlier this year. Love it or hate it, TRON will continue to find ways to build up the excitement—and the Sun Network is just the start.