Joe Crypto: Electroneum Erupts Like A Supernova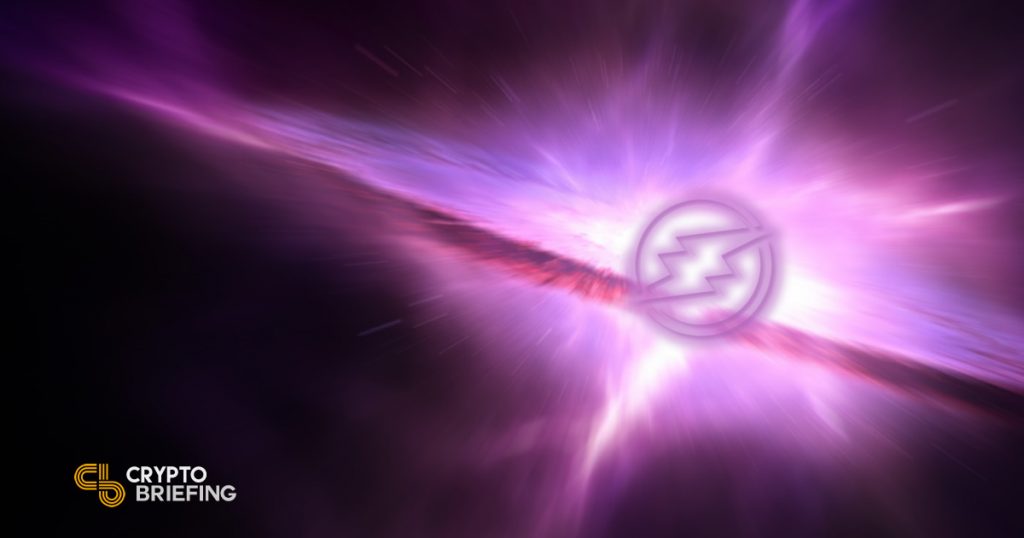 The crypto market was not in one of those moods to reach for the stars today. It has climbed in the last 24 hours, but not with any real urgency. Except, that is, for Electroneum.
The mobile-based cryptocurrency has just not stopped accumulating value, apart from one brief dip when the whole market collapsed. In the last 24 hours, at 3pm EST, it added another 40.33% to its value. It has been one of the stars of the crypto market for the past week: there's no doubt this was one almighty launch. Who knew ETN stood for Eternally Trading Nicely?
Electroneum: Market Cap Grows 300%
In the last six days, it has has gone from a market cap of $53.1 million on the 21st Sept to $170 million today. Early investors have made a killing and now the only thing we have to wait and see is if it can hold this value, and even build on it.
The instant notifications system that can drive instant payments systems, or the simple buoyancy of the digital currency, is winning over the crowds. Electroneum is turning into a standout performer of a relatively poor month and one of the few rays of sunshine in a rainy Thursday crypto market.
By the way, do supernovae erupt? Explode? Astrophysicists, please leave the answer in the comments.
---
Is Eternal XET Pump And Dump?
The Eternal XET token racked up another 26% increase in the last 24 hours and we're still sort of convinced it's a pump-and-dump. So join in that particular feeding frenzy at your peril.
GXChain has gathered momentum in terms of its public profile for the blockchain technology that is aimed at mining big data more efficiently to change tomorrow's world. The public blockchain also intends to make it simpler for developers to create their own dApps.
The Chinese firm has big ambitions and even though it has suffered along with the rest of the market this month, it has clawed its way back in the last few days and in the last 24 hours it enjoyed an 18.57% boost in its coin price.
The new market cap of $92.47 million reflects GXChain's actual standing right now, and CoinMarketCap has it ranked 70th. If the blockchain technology starts to find a home in the real world, though, these gains could signal the start of a much brighter future for the GXChain GXS.
---
Bitcoin Cash Reaps Rewards of Bitmain IPO
Bitcoin Cash had another solid day after its price spiked yesterday in response to the news of Bitmain's IPO. The fork of Bitcoin finished the last 24 hours a solid 9.12% up, but it was outshone by Bitcoin Gold that managed to add 11.80% to its sticker price.
Bitcoin Gold is undoubtedly the smaller of the two hard forks, but a market cap of $458.66 million is not to be sniffed at.
Litecoin had a good day at the races, finishing the last 24 hours 7.53% up with a market cap of $3.7 billion. Litecoin is another Bitcoin fork that has, for better or worse, been tied to the mothership when it comes to rising and falling values.
Today, Bitcoin took a dive and Litecoin went up, which is either a bad sign for tomorrow or Litecoin finally coming of age. It does have the potential to drive the Lightning Network and take over from Bitcoin. Let's see if that potential is really enough.
---
Another Name Keeps Cropping Up…
Cardano has kept plugging away this week and added another 4.79% over the past 24 hours. Cardano ADA is actually down on its position a month ago and it did collapse with the market, but the past week has seen a determined fightback and the market cap of $2.2 billion is no joke. At its peak this month it was $2.8 billion, but that seems like a long time ago right now.
Elsewhere Kucoin Shares can have its moment in the sun after ending the last 24 hours 8.11% up. A market cap of $114.8 million and a trading volume around $278,000 means it probably won't bother the big guns of cryptocurrency for a while yet.
---
Stellar Gets Its Groove Back?
One movement that could be worth watching is Stellar, which is up 4.11% and seems to be bucking the trend of its nearest and dearest. There has been speculation that Stellar would enjoy the same stratospheric rise as XRP has over the past week, on this very site. Only time will have the definitive answer for that one.
Speaking of the big guns, they all took a dive today, technically. Bitcoin, Ethereum and XRP finished in the red, but it was by fractions of a percent. XRP finished the day 0.03% and the worst was Bitcoin with a 0.18% in the L column, so basically the day was a wash.
The whole market is dotted with minor wins and losses. Overall the market came out ahead, but it wasn't by much. We're starting to hear a lot of bullish talk about this being the proper bottom of the market, so I guess we better hold on tight and hope the optimists are right.
The author is not currently invested in any digital currency.