wNews: The 5 Phases of Bitcoin
High-leverage crypto news, wrapped and bundled every Friday. And sometimes Saturday.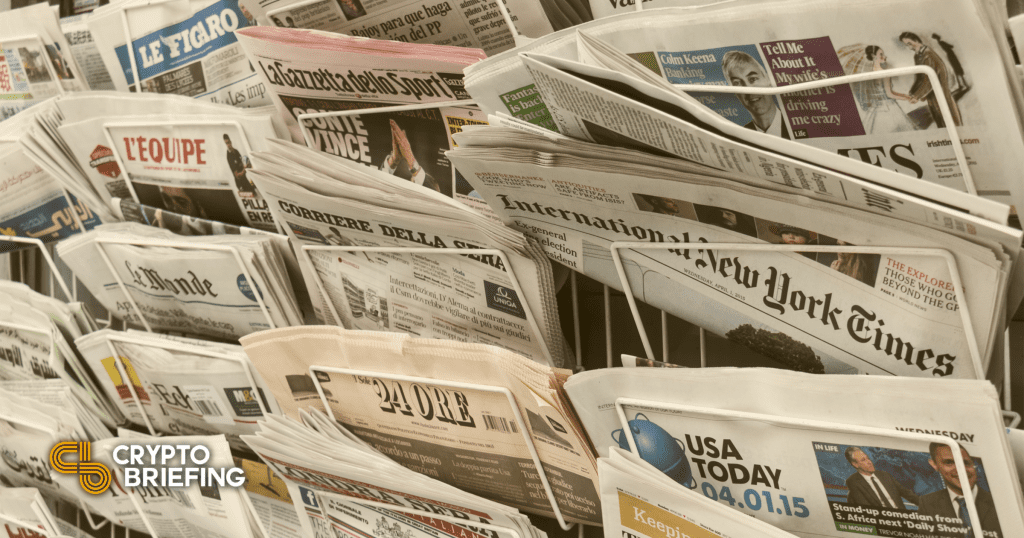 Key Takeaways
Nigeria took center stage this week as its Senate debated how to keep its currency afloat amidst the rise of Bitcoin.
The discussion sparked discussion about what phase of adoption the orange coin is currently in.
A $1.5 billion Bitcoin buy from Tesla started off what many called a critical week in crypto news.
Bitcoin's busy week was punctuated by a unique discussion in the Nigerian senate.
Nigeria's Bitcoin Problem
Financial markets often seem to happen in just a few large metropolitan areas. The industry cites Wall Street or the City of London, for example, as global financial hubs. These references do sometimes extend to different parts of Asia as well.
This week, though, Nigeria took center stage. And not for reasons you'd expect.
During a senate hearing, Nigerian politicians began discussing how to save their local currency amidst the rise of Bitcoin. Already, the country's central bank has ordered the closing of customer accounts linked to cryptocurrency. Retail banks that don't follow the mandate risk hefty fines. Binance followed after and began delisting Nigerian Naira pairs.
At the senate meeting, however, one politician claimed that "the technology is so strong that…[he doesn't] know the kind of regulations [they] can do" to stop it. The same politician, Sani Mohammad Musi, went on to say that "Bitcoin has made our currency almost useless or valueless."
After the United States, Nigeria moves the most BTC volume on the crypto marketplace Paxful. It's also hugely popular on peer-to-peer platforms like LocalBitcoins.
Bitcoin is so popular due to the slow devaluation of the country's local currency, the Naira (NGN). It's also crypto-enthusiasts' preferred narrative. Instead of losing value due to inflation and government intervention, citizens should buy sound money to protect their wealth.
Senator Musi is thus half right in saying that BTC is the reason the local currency is dying. The other half falls at the feet of the Central Bank, however.
The alpha bank is eyeing a third currency devaluation in less than a year. In doing so, they hope that foreign investors will flock to the continent's largest economy. Analysts from the South African Rand Merchant Bank wrote:
"The next step in ensuring foreign portfolio inflows would be to adjust the currency and, judging by the activity in the onshore futures market, this could happen sooner rather than later."
A decade earlier, this sort of loose monetary policy may have worked. These days, though, there's a new leak, and it's gaining traction every day. Plus, with large corporations now adding the lead cryptocurrency to their balance sheets, governments must rethink monetary policy and Bitcoin.
So far, they've come to realize that they're facing an unstoppable force in what is essentially military-grade encryption.
Few are talking about the imminent impact of unstoppable crypto-dollarisation on mismanaged sovereign currencies

— nic carter (@nic__carter) February 11, 2021
At such a high level of government, this kind of discussion is now being called a "phase 5" moment.
It's the point in the adoption cycle where it's no longer nerds playing with BTC but governments and large companies. Nigeria obviously hasn't adopted the asset. Still, the recent ban and steady volumes indicate that there's little they can actually do. They also seem quite aware of this fact.
Indeed the only way that Bitcoin could get pushed aside is if every large economy worldwide made it illegal. This wouldn't stop hardcore users, of course, but it would certainly curtail further adoption. Stay-at-home moms aren't interested in getting arrested for shopping online with illegal money after all.
The other potential outcome is that it becomes adopted globally. Companies like Tesla and Microstrategy are helping this along, too.
These are just two paths, which wax and wane in terms of the demographic pushing adoption forward. A waning, regulated path would likely exclude nation-states from adoption depending on the severity. A waxing, wait-and-see approach would generate an opposite outcome.
On a technical level, though, Senator Musi is right: Bitcoin is unstoppable. That doesn't mean its use can't be drastically limited, however.
Market Action: Bitcoin (BTC)
Bitcoin saw a massive increase on Monday after Tesla announced its $1.5 billion Bitcoin purchase. It wasn't the only positive news around Bitcoin adoption this week. Mastercard, Apple, and Amazon have kept the market's sentiments buoyant all along this week.
Nathan Batchelor, the lead Bitcoin analyst at SIMETRI, told Crypto Briefing:
"BTC looks set to continue to the up move over the weekend as the momentum from the recent Tesla and Mastercard remains very much in place. No obvious red flags on chain at the moment, so $50,000 looks possible. The big question at the moment is whether bulls will get another chance to re-load at $40,000 before BTC tests towards $55,000."
After six weeks of movement in the parallel range between $39,000 and $29,000, BTC finally broke past the horizontal range resistance.
The new support and resistance levels for the alpha cryptocurrency are at $39,000 and $49,000. The mid-level of the range at $43,500 is an important area of interest for traders.
However, Bitcoin perpetual contracts' funding rate is near its peak values on Binance, suggesting that BTC may correct soon. The open interest for Bitcoin futures on Binance is the largest, around $1.7 billion, dominated by long orders.
In the past, such high levels of borrowing rate for longs have always preceded a correction.
The market has not seen any significant BTC inflow to exchanges on the on-chain front, a potent signal for a sell-off.
Thus, the outlook continues to be bullish. However, a levered market may cause the price to plummet in the short-term.
Market Action: Ethereum (ETH)
Ethereum continues its path towards $2,150 after reaching a new peak this week of $1,836. The cryptocurrency is marginally close to the all-time high, and a positive break above it could see ETH over $2,000 this weekend. Batchelor added:
"I still expect $2,000 to be challenged over the short-term, watch out for the next big push to commence as $1,800 becomes key former resistance turned key support."
The second-largest cryptocurrency has etched a new all-time high seven out of nine times in the previous week.
Despite the high fees, though, the volume of transactions on Ethereum continues to hold all-time highs. The fees for transferring USDT on Ethereum has ranged between $12-$15 last week.
Still, the transaction volume of Ethereum has reached parity with Bitcoin around $10 billion transfers per day, raising the intrinsic value of the network.
The funding rates have been running high for quite some time. There is a probability that the metric could reset to zero with a quick ETH correction.
The support levels for ETH, the breakdown of which marks invalidation of the current bull run, is at $1,490, followed by $1,300 and $1,050. A retest of the 50-day exponential moving average (EMA) at $1,700 is also on the cards.
That's all for this week's edition of wNews, readers. Stay tuned for next week's dispatch.
Disclosure: At the time of writing, some of the authors of this feature had exposure to ETH, AAVE, BTC, UNI, and POLS.