Analysis: Is There An Altcoin Rally On The Horizon?
Bitcoin's lead is widening.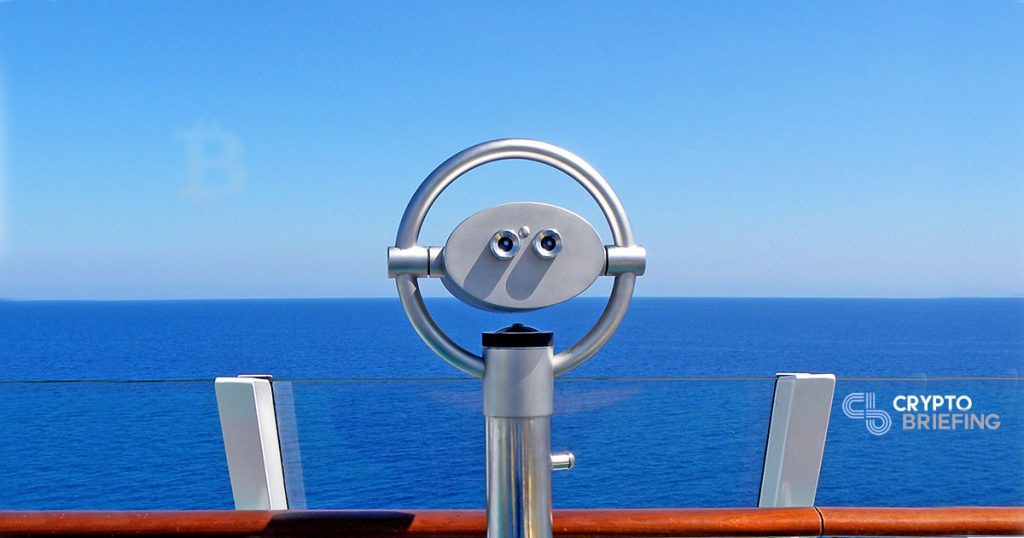 It's been a good month for Bitcoin (BTC) holders, but it's not yet clear what the latest movements mean for the rest of the market. While the leading virtual currency has gone from strength to strength – up more than 200% since the bottom in December – altcoin values have lagged behind.
Since the latest 'bitcoin boom' began in early April, the best-performing large cap currencies have been Binance Coin (BNB), with a modest gain of 50% , and Ether (ETH), whose price roughly doubled during that timeframe.
Prices for XRP grew by around 50% by the end of June, before reversing almost all of their gains. Similar losses befell Litecoin (LTC), Bitcoin Cash (BCH), EOS and TRON (TRX), each of which has slid back to the prices of early April.
Bitcoin dominance has also grown, indicating that BTC widened its lead over the rest of the market. After comprising roughly 51% of the crypto market in April, BTC now accounts for 66% of total market capitalization.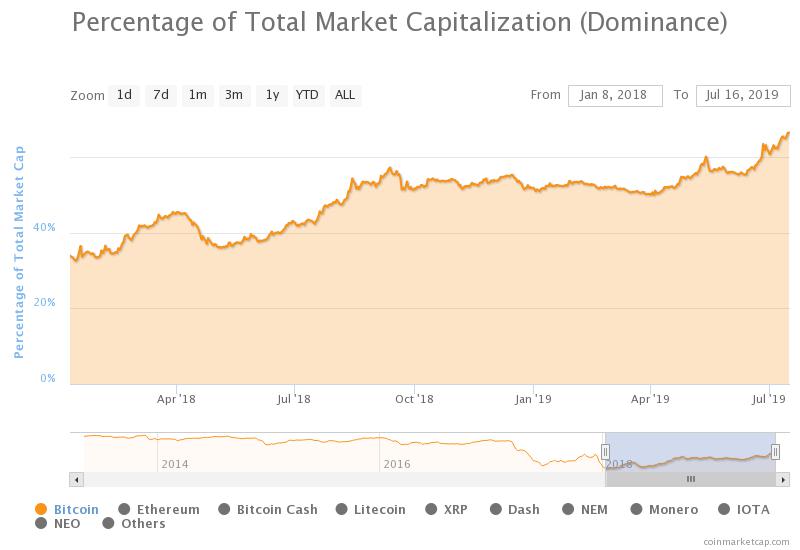 "When these buyers enter the market, one of the first assets they go to – because of its brand, its liquidity, and its accessibility – is Bitcoin," explained Kevin Murcko, CEO of CoinMetro. As the most famous digital asset, new investors are most likely to acquire BTC.
A recent report by U.S. investment bank Morgan Stanley found a declining correlation between Bitcoin and other virtual currencies, which analysts suggested could be a result of "slowing technological development and adoption of these altcoins."
Some tokens are rising against the ebbing tide. Chainlink (LINK) saw significant growth in the past few months, with prices rising sixfold since the beginning of May. Favorable headlines, like the Coinbase listing and Google integration, may have helped the token beat the market.
But sentiment data suggest that an altcoin rally is still far off. Figures from analytics site TheTIE, which aggregates the number and positivity of crypto-related tweets, found that favorable mentions of the top ten altcoins peaked in late May and has been falling ever since.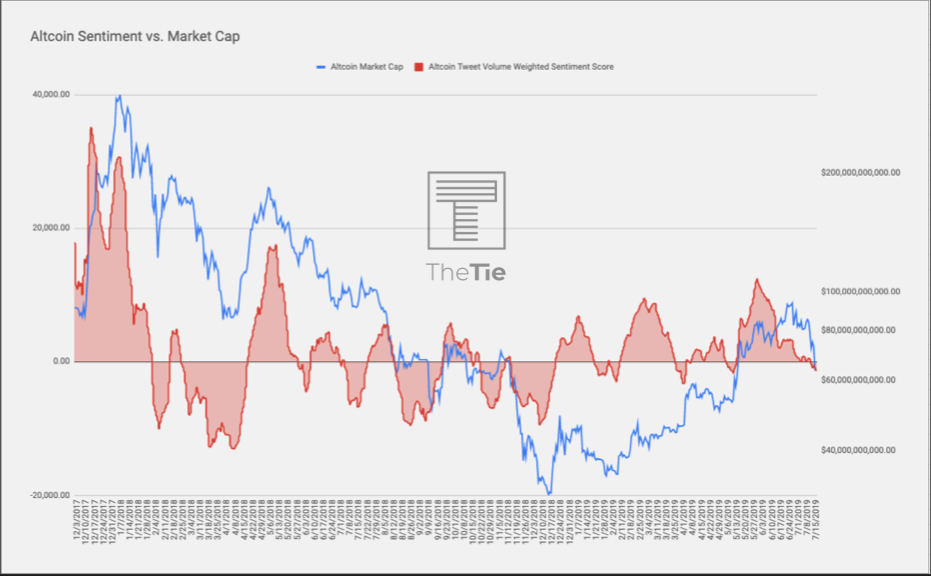 By comparison, Bitcoin sentiment is booming. BTC tweet volume is at its highest level since December 2017, accounting for 64% of cryptocurrency mentions on Twitter. After seventeen months without crossing the 60% mark, Bitcoin tweet volume reached that level at least three times last month.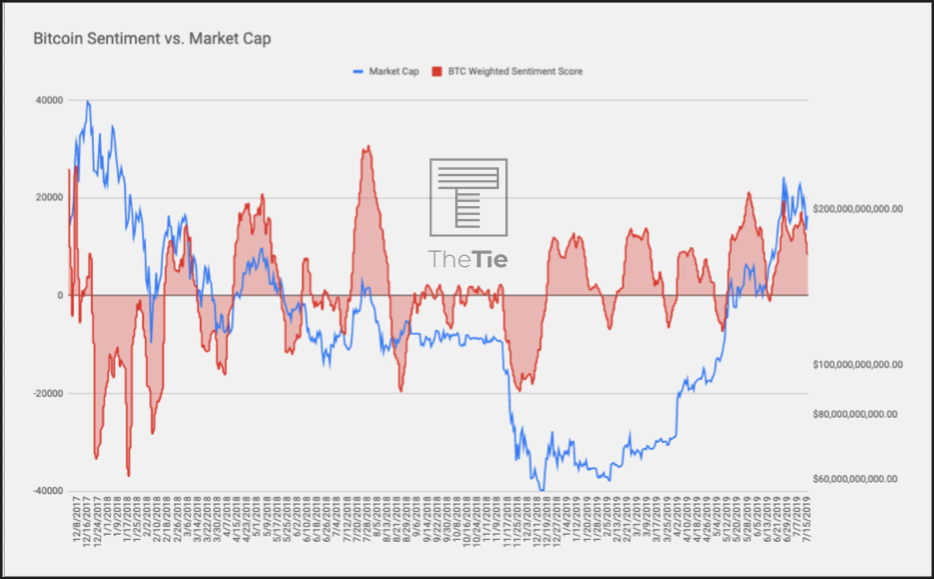 Long-term Bitcoin sentiment – which measures positive conversations on Twitter on a 50-day vs. 200-day moving average – is also increasing, despite the latest downturn.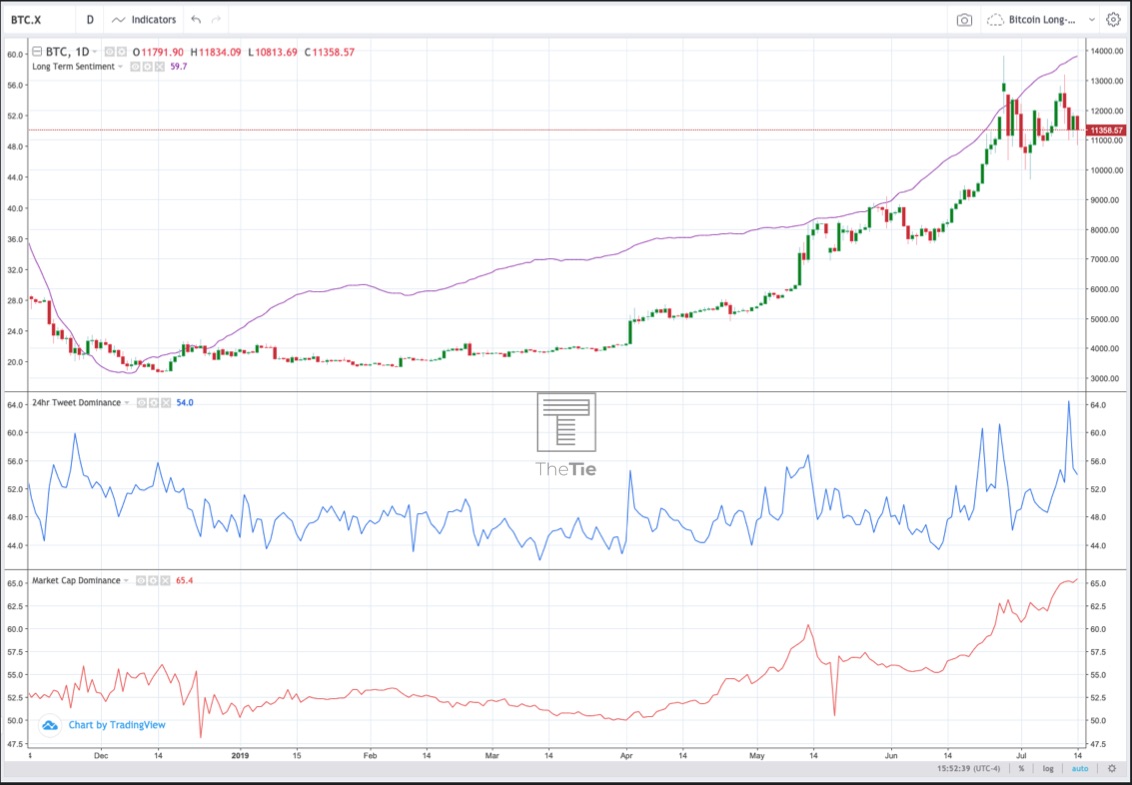 "This is still Bitcoin season," explained Joshua Frank, co-founder of TheTIE. "Bitcoin is continuing to dominate. While Bitcoin's tweet volume dominance…is volatile, it does appear to be increasing along with market cap dominance."
A change in sentiment does not necessitate a change in prices, but in a speculative market it's an easy metric to determine which way the herd is moving. As a case in point, the 2017 ICO boom galvanized interest in altcoins, thereby spreading capital among a wide range of digital assets.
IEOs have failed to attract anywhere near the same level of investment. As the Morgan Stanley report highlights, exchange-launched tokens attracted only $0.2bn of investment in May – a pittance compared to figures raised even at the end of the ICO boom.
Unlike most altcoins, Bitcoin is unique in that it already has a well-established use case: it's the main currency for crypto exchanges, and acts as a store of value which is not correlated with traditional markets.
With a few exceptions, most altcoins do not have the same appeal for the wider market. For the time being, the original digital cash is likely to remain investors' plat du jour.