Nearly Half of the Top 25 Stocks Have Ties to Crypto
Of the S&P 500's 25 largest stocks, 11 are owned by companies working with crypto or blockchain.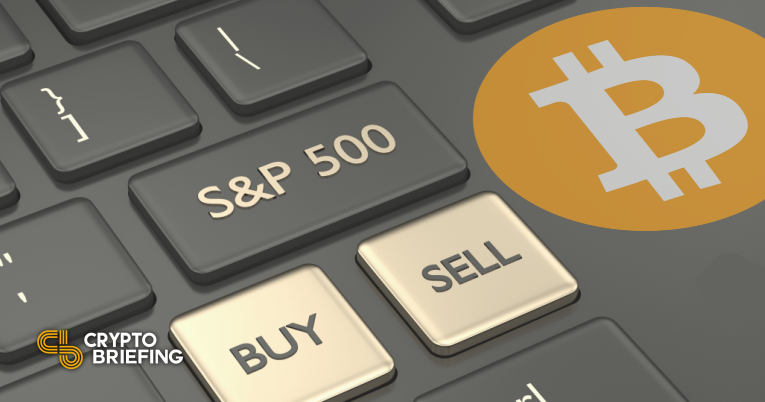 Key Takeaways
11 of the 25 largest stocks on the S&P 500 are involved in cryptocurrency and blockchain.
At least 22 stocks on the entire S&P 500 list fall into that category.
Many other non-S&P stocks also have ties to cryptocurrency.
Several of the largest S&P 500 companies are leveraging cryptocurrency and blockchain technology.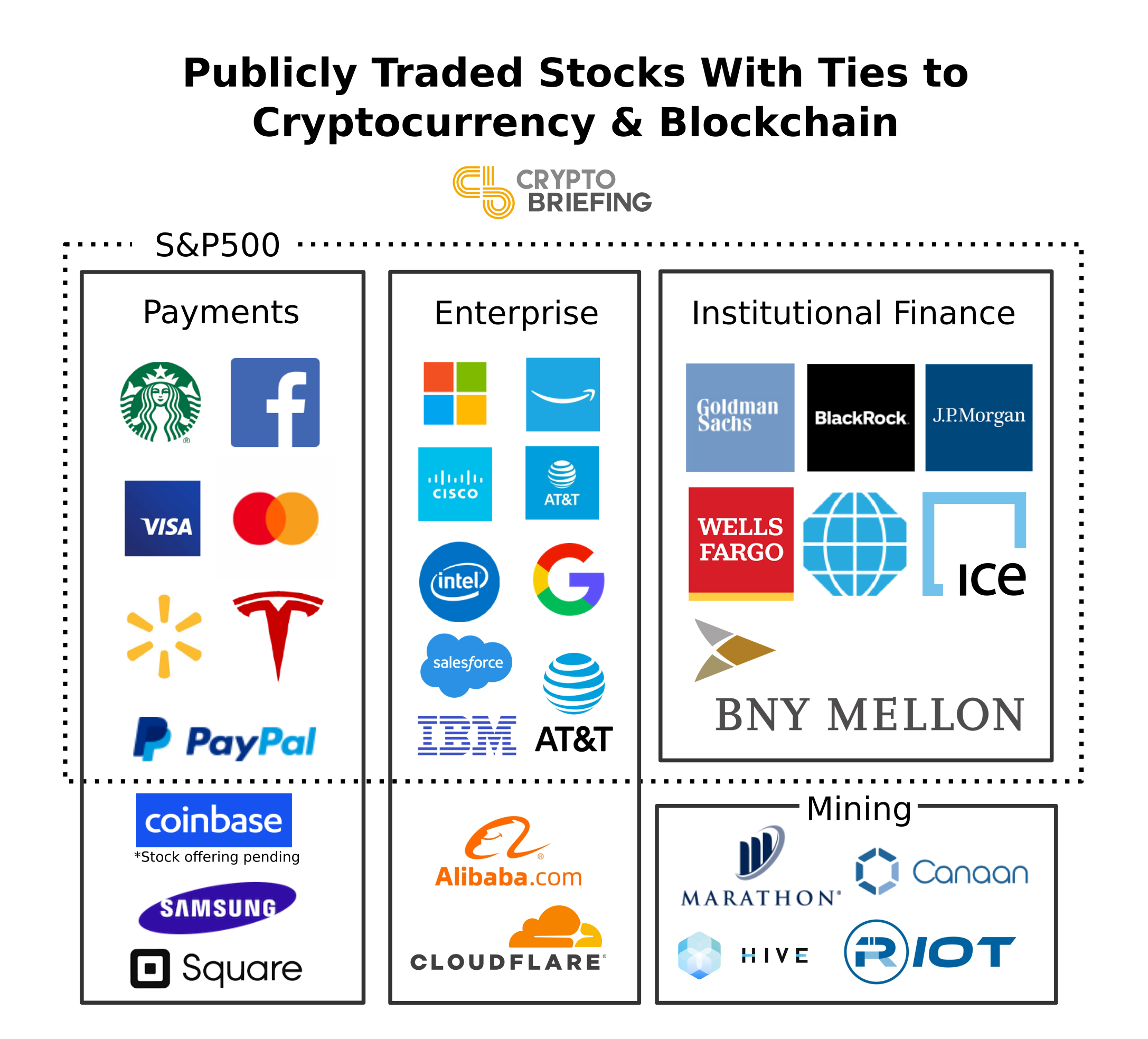 Big Tech & Payment Companies Lead the Way
Several Big Tech companies offer enterprise blockchain services. Microsoft (#2 by market cap) offers blockchain-as-a-service through its Azure marketplace. Amazon (#3) offers a comparable service through AWS and is also exploring crypto payments.
Additionally, Facebook (#4) is backing the Diem Association and its stablecoin, while Google (#5) is running public blockchain nodes through its Google Cloud division.
Tesla (#6) has just invested $1.5 billion in Bitcoin and is considering adding cryptocurrency as a means of payment.
Lesser tech companies like AT&T (#28), Cisco (#29), and Oracle (#59) offer enterprise blockchain services. Intel (#20) and IBM (#66) are involved in the Hyperledger blockchain project, while Salesforce (#26) has built its own blockchain on Hyperledger Sawtooth.
Financial Institutions and Payment Processors
Leading payment companies are heavily involved in cryptocurrency. Visa (#12) is working with several partner companies to support crypto payment cards. PayPal (#14) has supported crypto trading since October and is planning to expand its offerings. Mastercard (#17) has recently announced plans to support crypto conversions.
Banks and financial institutions are turning to crypto as well. JPMorgan (#10) offers its JPMCoin stablecoin and Liink blockchain; Wells Fargo (#53) also offers its own stablecoins. BlackRock (#71) is making plans to introduce crypto funds. Goldman Sachs (#69) and BNY Mellon (#198) are planning crypto custody services.
Meanwhile, CME Group (#112) offers crypto futures trading, while ICE (#118) offers crypto futures trading through its Bakkt unit. Related to this, the coffee chain Starbucks (#58) is working closely with ICE and Bakkt to accept Bitcoin payments.
Other Noteworthy Stocks
Numerous other crypto-related companies offer stocks but are not included on the S&P 500. Square, for example, handles Bitcoin and owns $200 million of BTC. Alibaba and SAP both offer blockchain-as-a service, Samsung develops a mobile crypto wallet, and Cloudflare operates an Ethereum gateway.
Future actions could also create more stocks. Crypto exchange Coinbase is planning to go public and could plausibly rank among the 500 largest stocks, even if it is not included in the S&P 500.
Twitter (#131 on the S&P 500) is reportedly considering a Bitcoin investment, but has not yet made a purchase.
A number of low-ranking crypto mining companies are also publicly traded, including Riot Blockchain, Marathon Patent Group, Canaan, and Hive Blockchain Technologies. However, all of these stocks are far too small for inclusion in the S&P 500.
Over 22 Stocks Have Crypto Ties
Based on this data, at least 22 companies in the S&P 500 can be considered companies involved in crypto or blockchain. At least 11 of those stocks are within the S&P 500's top 25 stocks.
Looking beyond the S&P 500, at least 31 publicly traded stocks can be considered crypto-related investments.
This is particularly worthy of consideration as some commentators see stock market capitalizations as a point of comparison for the crypto market. With a market cap of $890 billion, Bitcoin itself is currently comparable to Tesla, a top ten stock.