Bitcoin Decoupling from Gold in Push for All-Time High
Bitcoin passed $19,000 for the first time since 2017 yesterday, in its ongoing push for all time high. Conversely, the price of gold has recently fallen, showing that the two assets aren't always closely correlated.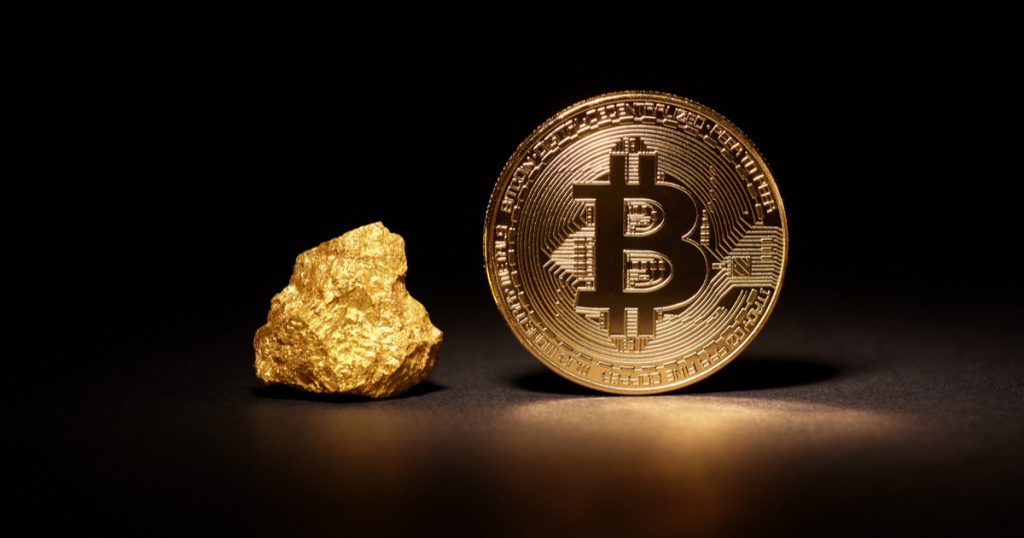 Key Takeaways
Bitcoin is pushing for its $20,000 all time high, while the price of gold has been dropping since the summer.
The weak correlation between the two assets over recent months shows that they don't always follow the same trajectory.
It's a possible sign of investors turning to "digital gold" in place of the more mature physical asset.
Bitcoin has been rising against gold throughout 2020.
The correlation coefficient between the two assets over the last six months is at -0.72, signaling that they've mostly been moving in different directions.
Investors often use correlation coefficients to measure the relationship between two assets. A pair that moves perfectly together would have a coefficient of 1, while a completely inverse relationship would result in a coefficient of -1.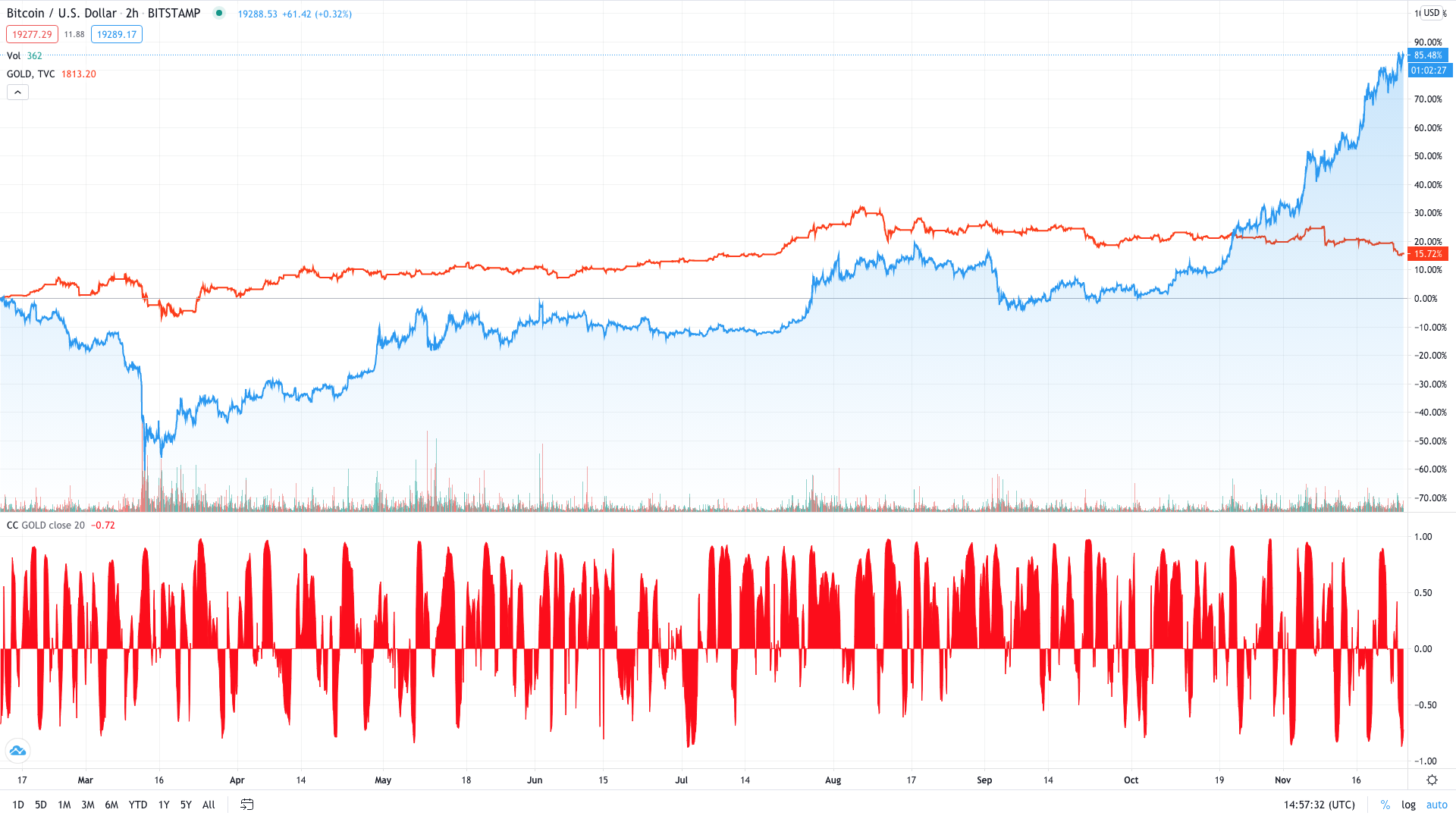 A key reason for the weak link is Bitcoin's significant growth over the second half of this year. It's risen 119% since June, surging to record highs in recent weeks.
Yesterday, the number one cryptocurrency passed $19,000 for the first time since December 2017 and had been trading above $15,000 since Nov. 8. That's the longest stretch Bitcoin has had at this price level in its history.
Gold, meanwhile, hasn't had such a positive streak.
While the precious metal is up year to date, it's fallen 12% from an August high of $2,062/oz to $1,812/oz at the time of writing.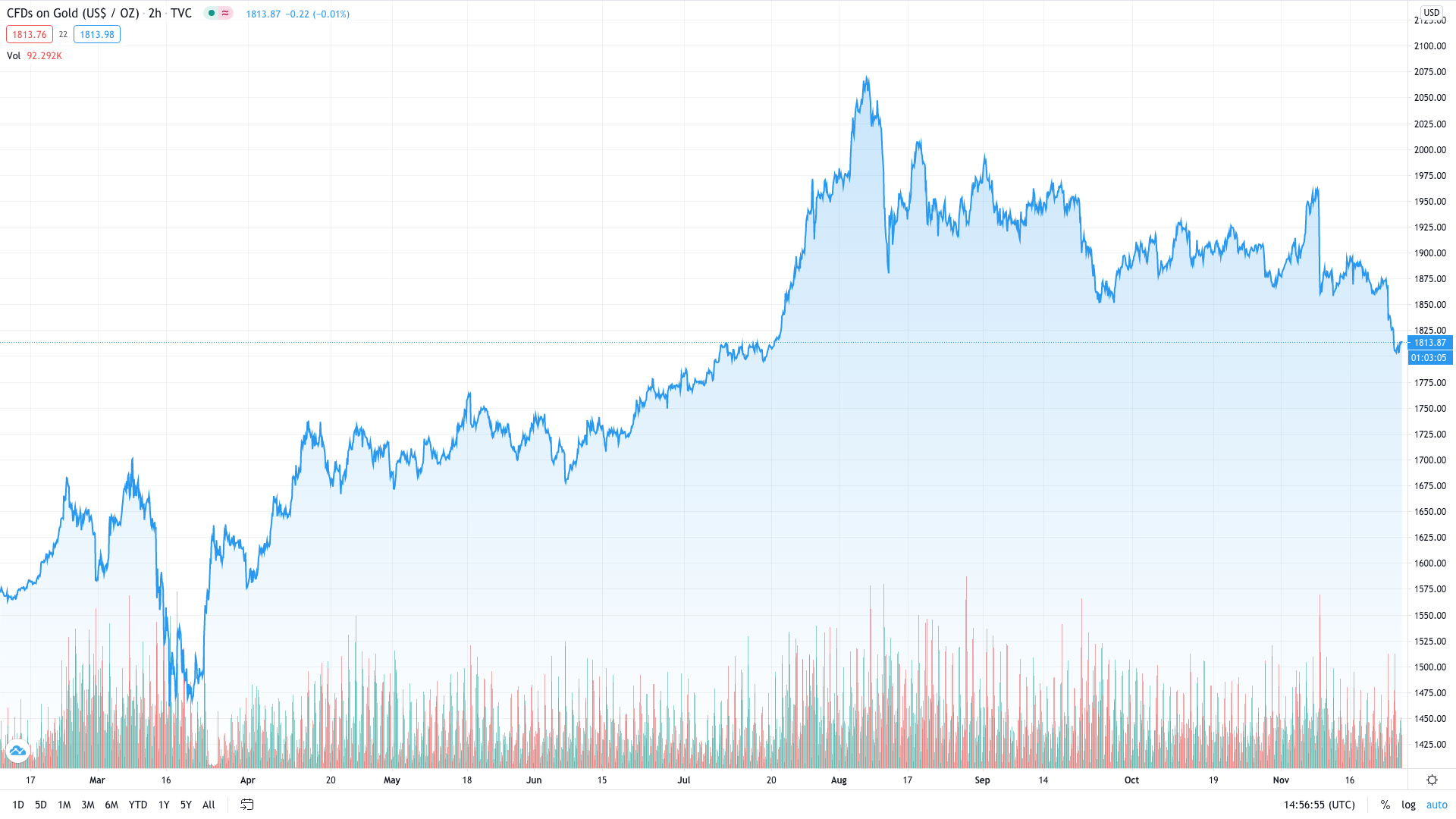 Earlier this year, the assets were following a much closer path.
The correlation coefficient hit as high as 0.86 in the days after "Black Thursday," when equities and crypto markets crashed in unison in response to the Coronavirus pandemic. The events saw investors scrambling to move "risk-off" at a time of global panic, leading to a fierce 50% drop in crypto markets on Mar. 12.
But Bitcoin's meteoric rise over the last few months shows that the first-ranked crypto often dances to its own tune.
While other cryptocurrencies have followed Bitcoin's ascent, anyone who's held onto gold since August will currently be down on their investment.
Recently, the first-ranked crypto has experienced a "supply crunch," thanks in no small part to the number of institutional investors that have entered the market. In addition to firms like PayPal, Microstrategy, and Grayscale placing bets on Bitcoin, notable investors including Paul Tudor Jones and Stan Druckenmiller have been vocal about the asset's potential as a store-of-value.
Ray Dalio, too, made a surprising U-turn, suggesting that he "might be missing something" in assessing Bitcoin's true value. The price jump has also led to Bitcoin attracting the interest of several mainstream media publications, potentially fuelling wider interest from speculative retail investors.
There will never be more than 21 million Bitcoin, which explains why it's often described as a form of "digital gold."
With such a dramatic shift in the narrative surrounding BTC over the last few months, global markets could soon see increasing numbers of investors turning to scarce digital assets over hard, physical commodities.